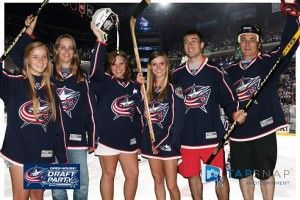 TapSnap franchisees collaborate with high profile sports leagues at exclusive events.
Currently, TapSnap 1094 of Zanesville, Ohio is working with the National Hockey League's Columbus Blue Jackets. Brian Clawson, the owner of TapSnap 1094, developed a relationship with the team during an NHL draft event where the CBJ signed a five-event contract with TapSnap. Through this partnership, Clawson has gotten a chance to be part of several happenings. At the Columbus Zoo, Clawson helped enhance an event for season ticket holders who took memorable CBJ themed pictures. Clawson also took part in the team's Halloween-themed hockey game on October 31.
Clawson is excited for several other opportunities coming up this holiday season like the CBJ Holiday Skate Party in December. Additionally, he is working to secure future partnerships with the CBJ.
Plus, the CBJ shared photos from the events to their official Facebook page using TapSnap share. The albums have generated more than 1,300 likes. CBJ and TapSnap fans continue to rave about the chance to take home memorable pictures of their favorite hockey themed games and events.