TapSnap brings classic photo booth fun into the 21st century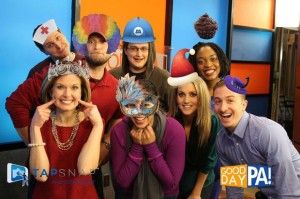 By Samantha Madison, The Sentinel
Photo booths have become a popular way for event organizers to help their guests remember a wedding, party, corporate mixer or other special occasion.
Mari Killian, of Carlisle, said while they're a great idea, the booths generally take up a lot of space and props can be messy. So when she heard about TapSnap, a spin on the standard photo booth, Killian said she was hooked.
"It is the coolest event technology available in Central Pennsylvania right now," she said. "TapSnap re-engineered the traditional photo booth. It's now just this cutting edge experience. It looks like an iPad on its side. It's very sleek, it's very stylish, and it really complements any decor, and you can use the system inside and outside."
TapSnap is a 42-inch touchscreen display with a camera that allows everyone at an event to take pictures and then edit them directly on the screen. First, a group can pose for the photo, then everyone in the picture can participate in editing their shot by adding accessories that would traditionally have been worn during the photo.
The guests can also draw on the picture, adding personal messages, doodles or even a celebrity's picture. There are options for the event to add in a green screen so the photos can have backgrounds.
Once everyone is happy with the photo, it can be emailed, printed or shared on various social media accounts.
"We can be posting to Facebook, Twitter, Instagram and email," Killian said. "So there's this amazing social media aspect of Facebook that sets us completely apart from any other photo booth like system in Central Pennsylvania."
TapSnap is also there to help corporations with branding and getting their name out there. The photos can also be printed with a company's logo. The person running the TapSnap booth at the event will also be taking care of details and the machine takes everyone's email address, so the companies can later contact guests.
"It's really a great marketing/branding tool for corporate companies," Killian said. "We have the ability to instantly add special effects to the pictures, whether that's a company logo or a monogram and we can instantly upload those as digital props."
The Carlisle resident said she has lived in the area for nearly her whole life, after her father started working at the U.S. Army War College when she was a child. She has since lived in the area but never really had a chance to explore the Midstate because of her job.
Killian works as a meeting planner for corporate companies and was spending a majority of her time traveling the world. But a couple of years ago, she started thinking about adding something else to her working life. In January, Killian became a franchise owner for TapSnap, covering most of the state.
"I wanted to start a business for myself in Carlisle," she said. "My events took me across the country, to Mexico to the Dominican and Puerto Rico and most recently France and Spain. But honestly, I never knew Central Pennsylvania very well because I was always traveling for my job."
Now, as a part of TapSnap, Killian gets to travel the area and see everything she has wanted to see since living in the Midstate. She said she not only wants to be able to see those sites, but also put the Midstate on the map in a positive manner and show people that it's a great place.
"We have this unbelievable state that is full of venues and great suppliers for the weddings and event industry, and it was just one of my passions," Killian said. "I love our little town, I love what we stand for, and I want to see our town recognized. It's a wonderful spot."
If anyone is interested in contacting Killian to get more information about TapSnap or to book it for an event, go to www.tapsnap1069.com, www.facebook.com/Tapsnap1069 or call 503-5519.
Source: Madison, Samantha. "TapSnap Brings Classic Photo Booth Fun Into the 21st Century." Carlisle Sentinel, September 13 2014.