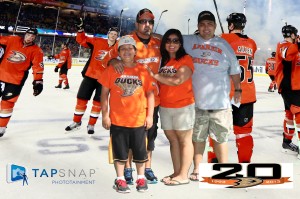 Jacqui and Cameron Clark's love for photography and entertaining family and friends naturally led them to TapSnap.
Both are seasoned professionals in their respective fields, and their backgrounds make for an excellent combination to run a TapSnap business.
Jacqui, a communications expert with 14 years experience in branding and publishing, is handling the marketing and PR. Cameron is taking the lead on the business end with his impressive expertise in vendor selection and negotiations, new product introduction, marketing piece creation, pricing, promotion and customer interaction.
Within only a few weeks into their business, they brought TapSnap entertainment to a 9-year-old's birthday party. They described the event as a blast, but the audience was different than they had expected.
"The TapSnap experience at the party was a bigger hit with the parents, who initially came to drop off their kids, rather than with the kids themselves," recalled Cameron. "The parents loved it so much that they stayed and tried it over-and-over again."
The hardworking pair is excited to start being a part of events in the Carlsbad and larger San Diego area. To be sure they are always in the industry loop they recently joined the National Association of Catering Executives and the local chapter of International Special Events Society.
Although they have busy schedules, they always make time for their family, friends, and each other. A photographer at heart, Jacqui is constantly snapping photos of her kids and interesting landscape and faces. She is especially thrilled to help others capture their special events with the fun, yet sophisticated photo opportunities TapSnap offers.