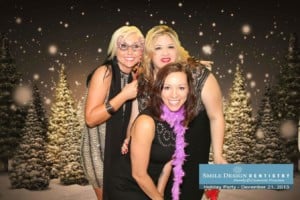 A new phototainment system like you've never seen before is ready for the holiday party season in Vancouver, starting with a volunteer appearance at the BC Children's Hospital Foundation's 26th Annual Crystal Ball on November 29. TapSnap is the photo booth gone open-concept and highly interactive, seamlessly integrating a giant 42-inch multi-touch screen with social media to give event guests a "phototainment experience."
"TapSnap may the best holiday party guest you'll ever have – it knows how to break the ice, get people laughing and having a blast," says Scott McInnes, the CEO and founder of the North Vancouver-based company. "When people take their picture together, they're creating memories and that's what holiday parties are all about."
Guaranteed to liven up any holiday party, TapSnap works like magic with the touch of a fingertip. Guests can take photos, draw and write personal messages on them and then share instantly via their social media networks, creating a social media presence for an event while the night is young.

"When people take their picture together, they're creating memories and that's what holiday parties are all about."
- Scott McInnes, TapSnap CEO
TapSnap has already been making the rounds of various events in the Lower Mainland, including Space Camp – a team building event for Concert Properties, the Wedding Show and Richmond's Maritime Days, as well as various weddings and class reunions.
Brad and Alison Rudover invited TapSnap to their wedding this summer in North Vancouver, BC at the Capilano Golf and Country Club. "We wanted to have the party of the century," said Brad. They had first seen TapSnap at a friend's wedding and thought it was so much fun they wanted it at their wedding too.
Rudover said, "Not everyone wants to dance, sit at their table, or pound drinks at the bar. We thought about what we could do to get the non‐dancers out of their chairs and really get everyone involved. TapSnap was the solution. Just about everyone made their way over to the TapSnap area and the photos are absolutely amazing. It captured candid moments of our guests just having fun. And this is exactly what we hoped for."
They're still receiving feedback from their guests that it was the best wedding they've ever been to.
Now TapSnap is ready to do the same for holiday parties.