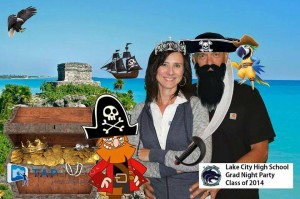 Richard and Jodi Weis of Coeur d'Alene, Idaho and Seattle, Washington are living the best of both worlds with TapSnap, operating in two very diverse markets. Currently, they have homes and operate in both cities, and are involved in a variety of events and groups.
What makes this couple stand out is their unique approach to marketing their business. They initially began working in Coeur d'Alene where they mainly focused on weddings, graduations, and charity events. After working with the Stranger newspaper at the SIC convention in Seattle the couple had ambitions to expand to a new market – Seattle. In November 2013 Seattle was awarded to them and Richard and Jodi began embracing this new market.
Rather than joining a single chamber of commerce, they identified the Seattle market as a melting pot and became part of multiple chambers catering to a diverse group of people, including the Chinese Chamber, Pilipino Chamber, Greater Asian Association and soon the Indian Chamber of Commerce.
Their first order of business was listing their TapSnap on a variety of websites, including Purple Unions. A good portion of their business currently comes from hosting same sex receptions and a variety of parties. In fact, Richard and Jodi were the first owners to execute a same sex reception within the TapSnap system.
"Being in sales my whole life I knew that TapSnap was a great marketing tool in itself," Richard said. "Plus, the support we received from the Vancouver office helped us launch our business."
Initially, the couple felt out of touch with their techy side, however the corporate office helped coach them every step of the way. Richard is glad to have a support team that is always around to help and even answer emails at midnight to assure they have all the tools needed for an early event.
The couple spends a lot of time traveling back and forth from Seattle to Coeur d'Alene, and is enjoying every minute of it.