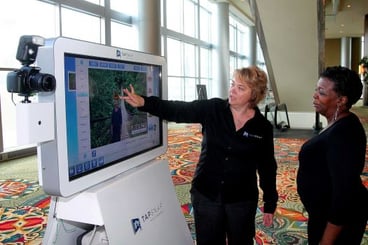 In a snap Jana Witt has done away with the traditional photo booth - and given the old-style event photographer the boot. The Woodlands-area resident has embraced the digital era and found a new business that fits her schedule perfectly. Last month, Witt opened a franchise of TapSnap - a company headquartered in Vancouver that has reinvented photo kiosks. Now residents and organizations near The Woodlands can hire Witt to bring her high-tech machines to their special events. She calls the service "phototainment," explaining that guests have fun posing for photos, adding digital props and sharing the results on social media. The pictures can also be printed on the spot. Before being hit by the entrepreneurial spirit, Witt was a stay-at-home mom. "I still wanted to do that," she admitted. "I want to be around when my kids need me." Trying to find a career that would accommodate her schedule was difficult. "To find a job that would afford me that kind of flexibility was just asking too much," Witt said. She researched her options.
With a background in direct sales, Witt also wanted a job that would allow her to work with people. "I wanted to either start my own business or open a franchise," she said. "Starting your own business from scratch is a tremendous amount of work." Opening a franchise of a more established business made more sense to the "mompreneur." One day, her husband Michael brought home a business magazine that listed TapSnap as a top new company. "I looked it up," Witt said. "I thought, 'This is perfect.' " Working events on evenings and weekends made it possible for her to stay home during the week with her kids. Plus, Witt liked the business concept. It just really appealed to me," she said. "It's something brand new, something different. I really liked the idea of bringing something new to the community. I thought it would be perfect for The Woodlands." She said the "camera" she brings to events is a free-standing, large screen. "To call it a modern day photobooth doesn't do it justice," she said. "There's no booth. It's not enclosed. There are no curtains."
Removing the walls and ceiling of a photobooth also opens up the options for the pictures. "There's no limit to how many people can be in the picture," Witt said. "And there's no limit to your creativity." A green screen in the background makes it easy to add whatever setting is desired - and props can also be edited in. "It can look like you're on a beach or in front of the Eiffel Tower," Witt said. TapSnap's touchscreen technology also makes it easy for the subjects to share their photos via social media. The business, which opened Feb. 5, was easy to start. She had to invest in the machines and learn how to use them. She did not have to worry about hiring employees or renting a storefront. "Since I opened, I've just been trying to get my name out there and to get some clients booked," she said. Witt says the cost for customers to rent TapSnap can vary. "A good average to figure would be to figure around $250 to $350 an hour," she said. She transports the machine from party to party in an enclosed cargo trailer.
Stephanie Dale was one of her first customers. Dale reserved TapSnap for her 40th birthday party. "It was an '80s theme," she said. "Everyone was all dressed up. I wanted them to have something they could take home with them." The photos made for perfect party favors, Dale said. "I would highly recommend it," she added. "It was nothing like the photobooths we've seen before." Dale said that Witt was able to guide her guests to take great pictures. "It's the best of both worlds – like having a professional photographer and having a photobooth," Dale said. "You can see the picture right there in front of you. You can redo it or keep it and edit it right there." Witt admitted that she is no professional photographer - and only learned the process during TapSnap's training sessions. Still, she has always enjoyed scrapbooking - and finds that her new business allows her to tap into a similar creative drive as her old hobby. "Preserving memories is a big thing for me," she said. "This is a way to preserve the great events in people's lives."
Written by Lindsay Peyton for Ultimate Woodlands News
Source: Ultimate Woodlands News