A photo is worth 1,000 words is the old saying. Today on social media a photo is worth much more than 1,000 words, while actually writing 1,000 words is simply not viable.
That's why TapSnap is such a great social media engagement tool for special events and brands. Not only does it encourage guests at an event to take pictures, but it makes it natural for them to share their photos live from an event in real time. And sharing is just the beginning.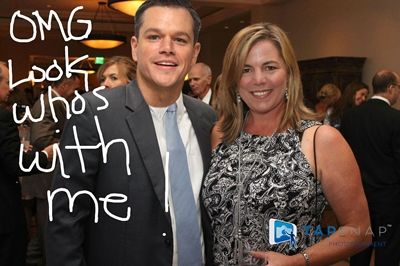 One photo goes a long way
This photo of an event guest with a very realistic digital prop of Matt Damon was taken by franchisee Kim Deimling (TapSnap 1009) at the Red Apple Gala in Park City, Utah, a fundraising event for the Park City Education Foundation.
Facebook stats
- 1,524 people saw the picture on Facebook
- 185 people engaged with the page which includes all activity i.e. just clicking
- 57 people generated a story about this picture by liking it, commenting on it, sharing, etc.
The virility of this photo is 3.7 percent. (The percentage of people who created a social media story from the picture divided by the total number who saw it.)
This is just one photo from the event. Imagine if you had 500 photos from your event.
Research shows photos boost engagement
Photos are a proven way to increase your engagement on social media.
Over half of U.S. adult Internet users post original photos and videos online, found a recent survey conducted by Pew Research Center's Internet Project. Some 54 percent of adult Internet users post original photos or videos online that they created themselves, up from 46 percent of Internet users last year.
"In terms of both Likes and Comments, photos far exceeded other post types in engaging consumer responses," wrote the social media analytics company Track Social in their 2012 White Paper on Optimizing Facebook Engagement.
Pictures get more than double the engagement of text posts on Facebook, and posts with photo albums get 180% more engagement, found Track Social.
Photos have a similar positive effect on Twitter engagement.
Tweets with images get over two times the engagement compared to Tweets without pics, according to an eMerge infographic. Sharing on Twitter surged 421% after they added photo-sharing, and sharing photos from Instagram has increased 20 fold since last year
The bottom line is that everybody wants photos to share, and a great photo can go a long way. TapSnap is an easy way to give event guests something they'll want to share, pictures of themselves having a great time at your event. It starts as just one of your guests taking a fantastic photo at your event, but who knows how far it will go?
The effects of photo sharing and social media can be exponential.