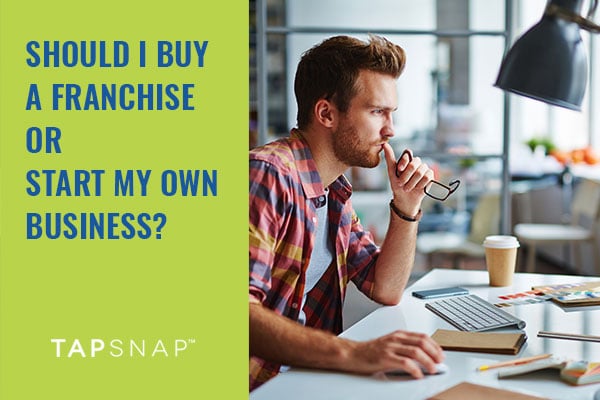 You've decided that you're ready to start a new venture and work for yourself, but how do you decide which way to go? Should you start a new business on your own and build it from the ground up, or should you buy into a franchise and start your entrepreneurial journey with the support of an overarching company? Here are some tips to help you decide which business journey is the best fit for you.
Do you have the right marketing resources and know-how to get your business off the ground?
You may be an expert in your area of business, but having some brand and marketing know-how is key when it comes to spreading the word and driving profits for your venture. If you have a background in brand development and marketing, then you may be equipped to handle it on your own, but if you're new to the marketing world, you may want to consider a franchise, which usually comes with built-in branding and a turnkey operating system that makes launching your business more of a breeze.
Do you have a solid support system of business resources?
Franchises most often come equipped with an ongoing commitment to providing training and support for new franchisees, as well as a network of fellow franchisees to communicate with when challenges and opportunities arise. If you have the budget and network required to tap into similar resources as a startup, then perhaps going it alone is a better options for you.
Related: How To Find The Best Franchise Fit For You
Are you willing to take a risk or do you want to run a business with proven profitability?
According to an article on Entrepreneur.com:
"Statistics show that 25 percent of startup businesses fail within their first year, 50 percent of the remaining fail within five years and approximately 30 percent of the remaining last ten years. Therefore, it is very risky to launch a startup - but don't forget that high risk equals high return."
Starting your own business could result in greater financial gains - if you're willing to take the risk. Becoming a franchisee comes with upfront and ongoing fees, but it also comes with the comfort of knowing that it's a proven business model that is working in other markets.
There's no wrong or right answer when it comes to determining if you should start your own business or become a franchise. The important thing is to do your research, and make a decision based on your personal goals and aspirations.