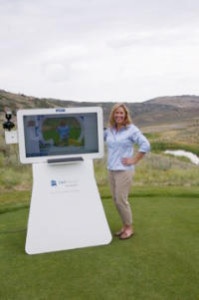 Kim Deimling's TapSnap franchise is continuing to expand after 18 months, according to a press release. Deimling was the company's first franchisee. After a career in event planning and photography, she became interested in starting her own business.
"This just seemed like a perfect fit for my personality and what I wanted to do," Deimling said in the release. "It was a little scary because we were literally the first group of franchisees to buy into it. So I sent my check off to Vancouver without having seen the unit, without having been able to talk to anyone who was already in business. And it's been the greatest move we've ever made, I think."
TapSnap is a photo kiosk used at events such as weddings, concerts and corporate gatherings, the release said. TapSnap's touchscreen technology can instantly add special effects to photos. The screen allows users to drag and drop props, celebrities and more into their photos. Photos are free for customers because TapSnap is rented by event hosts, usually at a rate of $645 for two hours.
Deimling's TapSnap has been used at a cancer research golf outing and a Motley Crue concert, to name a few. Deimling said rental has exceeded her expectations and she is considering buying an additional kiosk.
"This week, we had five events in seven days," Deimling said. "That's more than I expected when I was forecasting. I thought, 'If I can do one event every weekend, I'll be thrilled.' But we're finding we're doing events every day of the week, not just Friday or Saturday nights."
TapSnap teamed up with Olea Kiosks for the design, which CEO Frank Olea said was created with the idea of the end user in mind:
"A bride has spent thousands of dollars on dresses and décor and flowers. The last thing she wants is a big black box in the middle of her wedding," Olea said. "TapSnap had to have style. It needed to look clean. The white design means it just blends in. It is just really very simple. We went at it with the idea that less is more."
Source: Kiosk Marketplace August 26.