Following current trends, 2019 is going to be all about being a conscious consumer and reusable items will continue to gain favor. For your wedding to be on trend you should take some inspiration from these wedding favors that will stand the test of time, and be useful for years.
Succulents
Small succulents look super cute on a wedding table, you can even use them as place cards. Your guests will love having a plant to take home to their desk or their windowsills. This wedding favor will last a long time, as long as your guests remember to occasionally water them!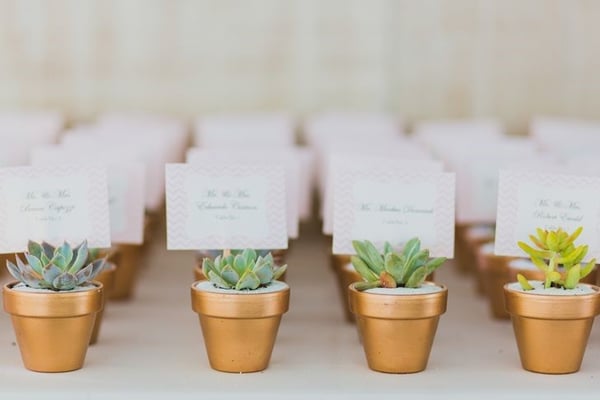 Photo Source
Photos
A photo is the most traditional of keepsakes. It's truly the best favor you could give your guests to help them remember your wedding, especially if their photos have your wedding monogram or hashtag on them. With a wedding photo booth like TapSnap that offers instant unlimited prints to your guests, you can give everyone multiple personalized party favors! Guests will love having a favor that features a photo of them having fun with loved ones.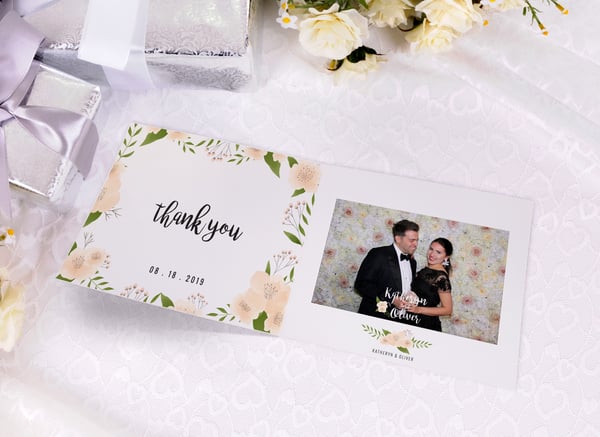 If you want to go even further, have photo frame cards made up, customized to fit in with your wedding theme, for your guests to pop their TapSnap photo print into.
Related: Why You Should Say I Do To A Wedding Photo Booth
Jar Lights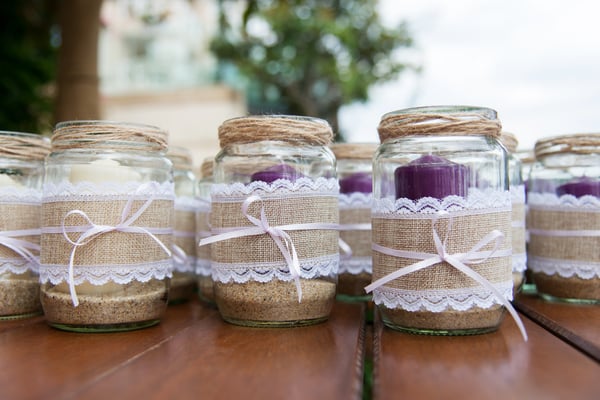 Decorate the outside of some used (clean!) jars however you want to, so that they fit in with the theme of your wedding. Create a base of sand in the bottom of the jar, then place candles in your wedding colors into the jars, using the sand to anchor them.
Or a more expensive option: Buy packs of decorative bottle string lights and create lights for your guests with used (still clean!) mason jars or bottles.
As the evening draws in on your wedding celebration, guests will appreciate the small lights twinkling away on the tables. They can take the jars and bottles home to pop new candles or lights in to reuse them as decorations around their homes.
Travel Coffee Mugs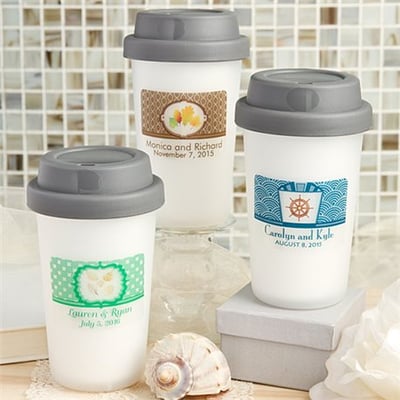 Join the revolution against single use coffee cups and single use plastic. Order reusable travel mugs with you and your partner's wedding monogram, your hashtag, your color scheme, or your names on them. Guests will appreciate having a wedding favor that can be useful in their day-to-day lives. Plus they'll always think of the fun they had at your wedding whenever they sip their coffee on the go!
Related: Cool Winter Wedding Trends To Bookmark For Your Big Day
Ingredient Kits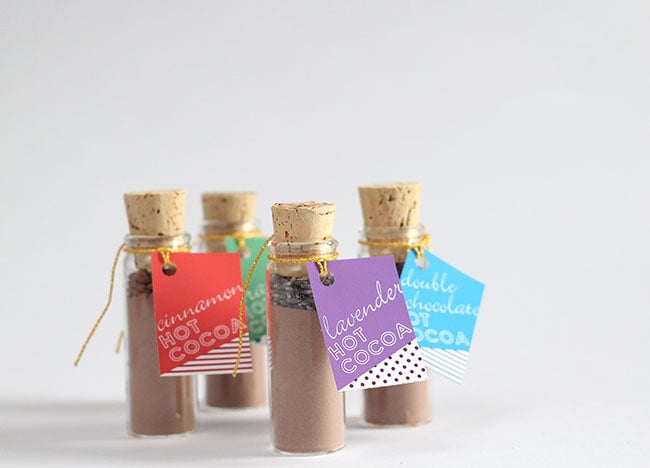 Whether it's the dry ingredients needed to make some delicious cookies or the cocoa powder and other flavorings for a comforting deluxe hot chocolate, recipe kits make a favor that guests will appreciate after your wedding.
Use small glass containers for the ingredients and cloth bags for packaging so there is no plastic waste and everything can be reused!