Congratulations, you've decided to start your own photo booth business! Photo booths provide a great opportunity to build a business that with some hard work can transition from a fun side gig into eventually replacing your full-time income.
We've been in the business since 2012 and during that time have learned what works and a lot about what doesn't! Ready to get started? Read on....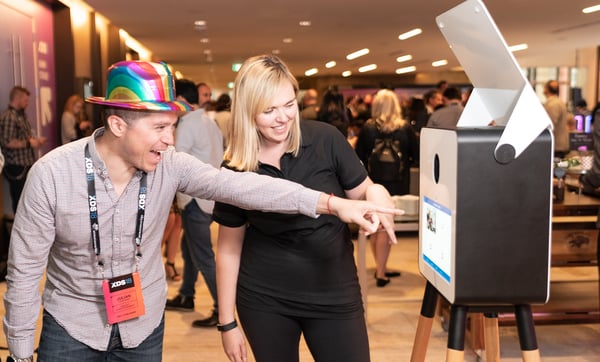 Why Start a Photo Booth Business?
Today, more than ever people are crazy about photos. Whether it's a quick selfie or a photo with loved ones to commemorate a special occasion, there are more photos captured and shared today than at any point in history. The high quality and accessibility of smartphone photos combined with the ease of sharing has made everyone into an amateur photographer, but most importantly for us, has made people very comfortable with the idea of having their photos captured and shared. As a result, people flock to photo opportunities more than ever, and when presented with the opportunity to have their photo taken by a photo booth at an event will jump at the chance to try this fun new way to do what they already love.
The already high demand for photo booths at events is on the rise. In fact, according to market research firm, Global Market Insights, the size of the photo booth industry is expected to grow from an already impressive $400 million USD per year at a rate of 16% CAGR from 2021 to 2027.
In most cities, especially during peak times of the year, there are not enough photo booth operators to service the high demand. In fact, it's common that many people that are considering starting a photo booth business contact us after having tried and failed to book a photo booth for their own event. They're frequently surprised by how much a photo booth rental costs, or in some cases all their local companies are booked up months in advance and they are unable to find a company that can service their event date.
Along with the high demand for photo booths, some of the most common reasons to consider this business are -
✅Low start-up costs - we'll get in to what you should expect to pay for equipment and other upfront costs, but it is a fraction of what you could spend launching a traditional business

✅High revenue potential - DSLR style photo booths (like our TapSnap Luna) typically rent for $250 - $300/hour, with an average event lasting 2 - 4 hours. Full-day and multi-day corporate events are not uncommon and would be quoted at a daily rate.

✅Work from home - equipment can be stored in a garage or spare bedroom, so there's no need for an expensive office

✅Easy to find/train staff - because the events are evenings and weekends, being a photo booth attendee will typically make a great part-time job, and with no special skills required other than having a fun, outgoing personality, it's easy to find the right people to work your events

✅Flexible schedule - most photo booth events are evening and weekends, so you can build your business while keeping your day job (at least for now) or running your kids to after school activities

✅Photo booths are a scalable business - events lead to more events, creating a snowball effect. As you grow you can add more photo booths to service the increasing demand

✅IT'S FUN! - if you enjoy being around people in social situations this could be the business for you!
Is a Photo Booth Business Right For You?
We've talked about why photo booths can be a great business opportunity, but is it a good fit for you? Some of personal reasons you may want to consider this business are -
✅You have a passion for photography and want to build a business around it

✅You currently own a business that would benefit from adding a photo booth (you're a DJ, wedding photographer, party planner, event venue, etc...)

✅You enjoy parties and being around people

✅You are looking for a business with a low start-up cost but unlimited income potential

✅You're excited by the idea of a side business that you can build while maintaining your current job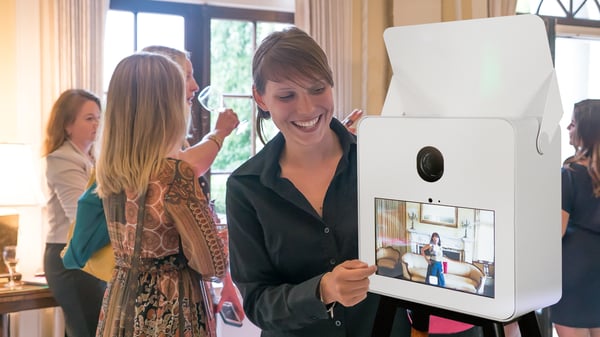 Step 1 - Identify Your Target Market
The popularity of photo booths means they can be found at almost every type of event. We break down events into two broad categories, social and corporate events, to start. Here are some examples of both of those event types.
SOCIAL EVENTS
CORPORATE EVENTS

Weddings
Mitzvahs
Holiday Parties
Family Reunions
Birthday Parties
School Events (graduations, alumni events, sporting events, etc...)

Marketing Activations
Golf Tournaments
Trade Shows
Conferences
Fundraisers
Concerts or Professional Sporting Events
Even though the list of potential events is endless, and over the course of your business you'll find yourself providing your services at more types of events than you could ever imagine, we'd recommend focusing your marketing efforts on one or two different types of events to start for reasons we'll discuss shortly.
We'd also recommend keeping the following considerations in mind when choosing where to initially focus your efforts. In our experience, even though corporate or marketing events can be more lucrative than social events, and have the potential for more repeat business, there are other factors you should consider.
👉Is there a type of event that you've already got a head start with or otherwise makes sense as a place to begin? For example, you're currently working as a wedding planner or maybe you have corporate experience or connections.

👉What types of events are most prevalent in your community? Is your city a destination for conferences? Golf tournaments? Weddings?
👉Are you starting in time to capture some holiday parties or are you heading into wedding season?

👉What events get you the most excited?

Again, what type of events you focus on initially doesn't limit you from doing other types of events. If you focus on weddings but someone asks you to quote on their 3-day marketing activation it is unlikely that you're going to say no. Our point is that rather than trying to create marketing materials, promote your business, and learn the intricacies of all these different event types it is best to narrow your focus and become a master of one type of event first. Remember that the features that get a bride excited can be quite different from what convinces a corporate marketing manager to hire you. Focusing your efforts initially can allow you to become an expert in one event type before moving on to the next.
Step 2 - Establish Your Budget
Your budget for starting a photo booth business should include the cost of the equipment (photo booths, lighting, backdrops, and props primarily) as well as some additional funds for marketing. Let's take a look at photo booths first, as that's the biggest cost and will impact other aspects of your business.
Some considerations when deciding on a photo booth are -
Cost - a quality photo booth will typically cost $4,500 to $11,000 USD
What type of photo booth, enclosed or open-air photo booth? Enclosed photo booths are the traditional type where 2 or 3 people sit inside the booth. These have largely been replaced by the open-air or kiosk style photo booths. We would not recommend an enclosed photo booth unless you have a specific use case that requires one.
Consider your storage space and vehicle size. A very large photo booth can make a big impact at your event but will likely need to be transported in a cargo van or trailer, and may be too large to conveniently store in your home. A smaller photo booth, like our TapSnap Luna, can typically fit in a passenger vehicle with room left over for your lights, props, and a backdrop. This can be a game changer as it can allow a single staff member to pick up and transport the equipment to and from events in their own vehicle.
Camera or iPad booth? There's no right or wrong answer to this question as both have advantages and disadvantages. Historically, people have chosen iPad booths due to their typically smaller form factor and lower cost, however our Luna and Luna Pro photo booths are full featured DSLR photo booths but are as small and easy to set up as an iPad booth, and our Luna Go model starts at the same price as most iPad booths but allows you to add your own DSLR to improve the image quality. The main reasons to choose a DSLR photo booth over an iPad booth are -

Photo quality - An iPad booth is limited to capturing photos with the built-in, front facing camera which is intended for video conferencing and not photography, and, to make matters worse, you cannot sync the camera with a flash. DSLR booths capture photos with a dedicated camera for much improved photo quality, and advanced photo booths (like our line of Luna Photo Booths) combine a DSLR camera with a built-in flash with bounce card system that is very similar to what a professional photographer would use in a studio shoot. Most photographers would agree that it is the lighting more than anything that makes a great photo.
Printing - iPads print over Apple's proprietary wireless printing technology, AirPrint, which is not typically compatible with most event-style photo printers. We would also always recommend that

even if you can connect wirelessly to your printer to use a USB connection as it's one less thing to go wrong at your event.

Higher per event revenue - iPad booths can be fun, but at the end of the day the guests quickly realize that they are still just playing with an iPad that has been put in a photo booth enclosure, and there's only so much people will pay for that. Guests will, however, pay top dollar for unique experiences and great photos, which are much easier to create with a high end, full featured DSLR style photo booth such as the TapSnap Luna.

Software - Most photo booth software has more or less the same photography features (green screen, GIF, borders, etc..) and often the biggest difference is in how easy the software is to learn and use for the photo booth owner. Also keep in mind that if you want to jump into the lucrative market of corporate events we would recommend using software that has the ability to run guest surveys, capture guest data, and includes advanced reporting features. We'd recommend scheduling a demo before making a final decision.
To print or not to print? - We would absolutely always recommend printing. The incremental cost of printing is very minimal and it allows you to send guests home with a valuable keepsake that will help keep your company top of mind for future events.
PRO TIP:
Purchase your photo booth from a company that builds both the hardware and software (like our TapSnap Luna). You'll typically find that the systems work better, and if you have a question, want some training or need some help you'll only have one call to make.
Summary of Equipment Costs
| | | |
| --- | --- | --- |
| Item | Description | Cost |
| Photo Booth | Professional Quality, DSLR-style booth | $4,500 - $11,000 |
| Lighting | 2 LED light panels w/stands | $300 - $400 |
| Backdrop Frame | Tension-style frame for photography backdrops | $200 - $300 |
| Green Screen | Used for background removal | $150 - $250 |
| Props | Feather boas, signs, funny hats, etc... | $50 - $100 |
| Printing Media | Dye sublimation print supplies to get you started | $150 - $300 |
| Marketing Materials | Website, business cards, and brochures | $2,000 - $5,000 |
| Professional Fees | We recommend consulting accountant to determine best business structure to establish | $500 - $1,000 |
| | Total: | $7,850 - $17,350 |
PRO TIP: Keep it simple and save some money by purchasing a Marketing Bundle from TapSnap that includes a Backdrop Frame, Green Screen, Lighting Kit, and iPad Sharing Station.
In addition to your start up costs, you'll also have to plan for some fixed monthly expenses -
| | | |
| --- | --- | --- |
| Item | Description | Monthly Cost |
| Insurance | You'll want to speak with an insurance agent about what type of insurance makes sense for your new business | $100 - $200 |
| Internet | We recommend using a portable, wireless hotspot with cellular connectivity | $25 - $50 |
| Ongoing Marketing | Some choose to spend less and put more effort into attending networking events, building through referrals, etc… while others prefer to put aside a budget for Google and Facebook | $100 - $500 |
| | Total: | $225 - $750 |
Step 3 - How to Finance Your Start-Up
Not everyone has the funds available to start their business without a little help. Here are a few options to consider -
👉Find an investor or business partner to share the costs
👉Use a low-interest home equity line of credit
👉Ask your photo booth supplier what financing options they offer. We offer attractive financing to both established and new businesses. To learn more or apply,
click here
.
Step 4 - What to Name Your New Business
We came up with the name TapSnap by holding a staff contest. However you choose your name, you should try to pick one that would make sense to your customers, is search engine friendly, and won't limit your business growth by being too narrowly focused. Get your family and friends involved and try brainstorming some words related to photo booths or event entertainment to see what sticks. Remember, we're in a fun industry so you'll probably want to reflect that in your name. Sometimes incorporating your city name can be helpful as it tells potential customers that they've found a company that services their area, but keep in mind that it could also limit you if you plan on servicing events that are a couple of hours away. You'd probably be willing to drive much further for a multi-day festival than you would for a 2 hour wedding. Once you've narrowed down your name choices we would recommend doing a trademark and URL search to ensure that the name is available. The last thing you want to do is to invest in building a brand around a name that isn't available.
Step 5 - Taking Care of the Odds and Ends
You've come a long way in setting up your new photo booth business, but you're not quite done yet. Here are a few things that you'll definitely want to take care of before you go any further.
✅Event contract - This is the contract between you and your customer. We provide contract templates to our photo booth owners that cover the basics, but make sure to have them reviewed by a local attorney as laws can vary depending on where you are conducting your business.

✅Event questionnaires - These are what you provide to a customer in advance of their event so they can share important details such as event hours, setup time, location, unloading/parking details and special instructions. We also provide questionnaire templates to our photo booth owners.

✅Insurance - You'll want to speak with your current insurance provider about what coverage you'll need. If you don't have an insurance provider or would like a recommendation please let us know.

✅Hiring your team - We recommend reaching out to friends and family first. College age kids make great photo booth attendants, but really anyone with an outgoing personality is usually a great fit. Once you've got a few staff you can always ask them if they have friends that might be interested. It's always best to get more staff than you need as you're offering complimentary work to their school or full-time job so there's no guarantee they will be available when you need them. The nice thing is that you only have to pay them when they're working an event, so there's no downside to having a large pool of event attendees.
PRO TIP:
Don't be caught off guard by the busiest times of the year. Schedule a reminder to load up on staff well in advance of peak seasons as you could be doing more than 5 times your typical volume of events. This is also a good time to load up printer paper, freshen up your props, and consider purchasing an additional photo booth or two. It can be frustrating to have to turn down events because you were not prepared.

Step 6 - Setting Rental Prices
Photo booth rental prices will vary. Lower end, discount companies with iPad booths are typically the cheapest and sell based on price. On the higher end, you'll find companies with DSLR style booths that feature advanced technology are commanding a higher price. Here are some things to consider when setting your pricing -
✅Research your competitors - You may (and should) have already done this research before, but if you haven't already it's a good idea to make a list of your competitors and their prices. If the prices aren't listed on their website, it's time to go undercover and do some secret shopping.

✅Who is your target market? - Remember when we asked you to consider your target market back in Step 1? Different customer types are more or less sensitive to price. Generally speaking, an engaged couple that is spending their own money on their photo booth rental are going to be more conservative than a corporate marketing manager that is desperately looking for a photo booth with survey capabilities for their large conference or street festival (did we mention that our Luna photo booths have survey functionality?).

✅Upselling opportunities - This can be a great way to create pricing that scales with the customer's needs. That marketing manager that wants survey functionality will pay extra for it, and there's a good chance that they'll pay extra for the photo booth front panel to be wrapped with their branding, and it's guaranteed they'll want their logo on their photos. We have had customers pay thousands for unique, custom graphics or on-brand animations. It's important to know your customer and understand what they're trying to achieve at their event so you can make recommendations that help them achieve their goals. Not a graphic designer? Don't worry our design team can help create custom graphics, animations or front panel wraps for your event.

✅Packages and discounts - It can be a good idea to put together a package for weddings that includes a backdrop and photo border at a slight discount. Again, in our experience weddings are the most price sensitive type of events. Keep in mind that much of your business will likely come from referrals, so don't offer a discount to one customer that you wouldn't offer to another. If it's a discount for a weekday event, or a one time discount for a new corporate client, make sure that you state that in your quote so that you are not obligated to offer the same discount on subsequent events that could be on a busy weekend or during your peak season.
Step 7 - Time to Market, Market, Market!
You've determined your target market, set your prices and have your first Luna photo booth (ok, we're assuming you've ordered a Luna, but why wouldn't you?) on order. Now you just need to sit back and wait for the phone to ring, right? Not so fast! Now it's time to start hustling.
We are strong believers in setting goals. Goals can be a great way to stay on track and can give you a sense of accomplishment as you work towards your ultimate objective of building a successful photo booth business. Here are some examples of both short-term and longer-term goals that you may want to consider.
✅Setup a Google My Business listing, Facebook page and Instagram account for your new business in your first month.

✅Have 3 to 5 high quality leads by the end of your first month

✅Complete 2 free events for family and friends in the first month

✅Join a networking group in the first month

✅Make a list of 10 local vendors servicing the event industry in your first 2 weeks in business, and be having meaningful conversations about partnering with 3 of them by the end of your second month in business

✅Partner with a local vendor on an open house to showcase both of your products and services in the first 2 months. It can be a good idea to partner with a caterer for the open house as this takes care of food and drinks for your guests

✅Make it a goal to get 2 paid events by the end of your first month and be averaging 4 per month by the end of your first year
Advertising - Online and Magazine Ads
Google and Facebook are two types of online advertising that we'd recommend you test. Google is far and away the most popular search engine in the world and Facebook the largest social media platform. Running ads on their platforms is relatively easy and can be very effective. This isn't intended to be an ultimate guide to online advertising, but simply put, with Google you will likely spend a bit more on a per lead basis, but because your ads are placed in the search results you're targeting people that are actively searching for photo booth rentals. You can target specific search terms or keywords, include negative keywords, and only target your geographic area. Because you're targeting individuals that are actively searching for a photo booth rental there is a relatively high chance of closing these deals.
With Facebook you can target people based on their interests, status (recently engaged for example), where they live, age, or even if they have previously visited your website. I'm sure most of you have seen these types of ads on Facebook. Facebook is typically less expensive than Google, however your audience will likely not have the same level of interest as someone who has just typed "wedding photo booth rental" into Google.
Another place to consider advertising online is taking out a listing on a wedding website such as theknot.com. These can be very effective, but just keep in mind that at the same time a lead is requesting information from you they are likely requesting it from other photo booth companies as well. We have definitely had success with theknot.com, and it can be an important piece of an online strategy, but we have also received a disproportionate number of budget-minded leads. Think quantity over quality.
Magazine ads can be effective but please make sure the magazine is a good fit. An ad in the back of a fishing magazine is unlikely to deliver a meaningful ROI, but an ad in a local bridal magazine could be a fit. It's often more effective to reach out to a local newspaper or magazine to see if they would be interested in featuring your business in an article. We recommend online over print as the reader is a click away from your website.
Step 8 - Practise Events
We know you're anxious to get out show the world your new photo booth, but the first thing you should do when you receive your photo booth is to set it up in your home or office and do some test events. Keep playing with the equipment until you're 100% comfortable with how to setup and operate both the hardware and the software.
When you're comfortable with your system, we'd recommend asking your friends and family if they know of any upcoming events that you could do for free. Even though these first events are freebees, we'd recommend treating them as real paid events. Make sure the graphics are beautiful and treat the client as if they were a real paying customer. In addition to providing you with invaluable experience, these first events will also give you photos that can be shared with potential new clients and some reference clients if needed.

Our first event was a backyard wedding for a friend of long-time staff member. There were a few hiccups but the bride was happy and we were able to capture some photos that we used in our marketing and as samples that were sent to potential clients. We also generated a few leads, one of which turned into a paid event!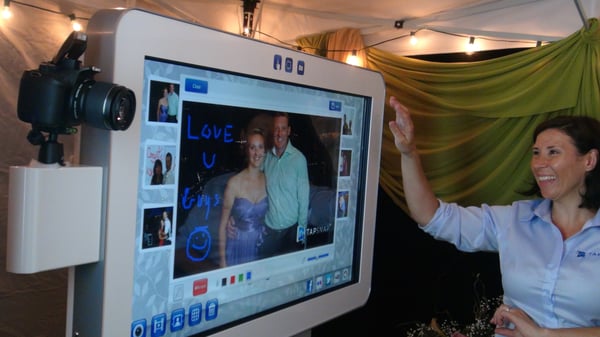 Photo of Claire at our first event, July 2012
Step 9 - Closing Your First Deal
We could write an entire e-book on photo booth sales (and maybe we will!), but here are a few best practices and tips that will help you get started.
👉Contact leads as soon as they come in, ideally within the first 5 minutes. The longer you wait the greater the chance of them speaking with another company.
👉If you don't reach them right away keep trying. There's a good chance that it may take multiple attempts to connect.
👉Be respectful of their time. Just because they picked up doesn't mean they have 2 hours to talk about photo booths. It's always a good idea to ask if now is a good time to chat and be right on time for appointments.
👉Do what you say you're going to do. If you tell the lead that you'll send them a proposal before the end of the day, do it.
👉Ask questions and listen to the answers. There's a good chance that they're going to share some info that could help you close the deal.
👉Understand who the client is. Brides and corporate marketing managers don't share the same motivations for renting a photo booth. A bride also may appreciate a call in the evening or on the weekend but the marketing manager may be easier to reach during business hours.
👉Always end every conversation or email with a next step. If you're sending a proposal, set a specific time to review the proposal (Tuesday at 10am is much better than next week or in a few days).
Step 10 - Nailing Your First Event!
Congrats, you closed your first paid gig! Way to go! It's natural to be nervous, but remember that this first paid event shouldn't really be any different from the free events you've done. Here are some tips to make your first event and all that follow a success.
Pre-Event
✅Send your event questionnaire to your client well in advance of the event date
✅Never skimp on graphics. Unless you're a paid graphic designer, we'd always recommend outsourcing the design of your borders or backgrounds. TapSnap Luna owners have access to our Design Team who can create everything from simple wedding borders to complex animations for corporate events.
✅Create a check-list of everything that you need to bring to your events. We keep a laminated check-list with each of our photo booth kits.
✅Things can go wrong, so bring extra power strips, printer media or anything else that could potentially shut your event down
✅Leave early enough so that you arrive with time to set up and have at least 30 minutes to spare.
During the Event
✅Check-in with your client as soon as you arrive
✅Safety first - make sure you tape down all cords, properly secure tents, and use sandbags to stabilize your backdrops or light stands
✅Take test photos - this is important to ensure that your lighting is correct and your photo is properly framed (you don't want to see around the edges of your backdrop)
✅There's ups and downs to the flow of most events and it's easy for staff to get caught up in the excitement of a fun social event. You want your staff to have fun, but they also need to remember they're not guests. They need to keep their phones in their pockets and it goes without saying that trips to the open bar or buffet table are a no no. They should appear ready and excited to take photos at all times.
✅Give the client a heads up before shutting down and packing up. As a courtesy we'd recommend staying longer if the event is still going strong or there's a lineup, but if you expect the client to pay for extra time get their approval first to avoid any misunderstandings.
✅Clean up so as not to leave a mess behind
Post Event
✅Send a follow up email to the client thanking them for their business and include links to the event album along with any other deliverables. Nothing is more frustrating to a client than being kept waiting.
✅Ask the client for a Google review. A positive Google review provides powerful social proof to potential customers.
✅Ask for referrals. Odds are the bride knows other couples that are getting married or the corporate client knows other businesses that could benefit from your services. Most people are happy to help.
✅If it's a corporate event ask what else they have coming up. Just by asking you could establish a relationship that could result in multiple events per year.
Conclusion
We hope you found our guide helpful, and that after reading it you feel more confident about starting a photo booth business. All lot has changed since we launched in 2012, but the one thing that has remained consistent is that success in the photo booth industry boils down to creating fun, memorable experiences for your clients. We approach every event with the expectation that we're going to come out of it with at least a couple of leads for additional events. If you're going above and beyond for your clients, and knocking it out of the park at each event, that should be your expectation as well. Events should lead to more events, and if they're not there's some area of your business that is lacking.
Our TapSnap photo booth platform was initially designed to be used at just our own events. Our focus was to create an easy to use, powerful and above all fun photo booth that would feature unmatched image quality. The latest iteration of that system is our TapSnap Luna line of photo booths, which is now available to entrepreneurs and businesses. If you have any questions about purchasing a TapSnap Luna photo booth, or about starting a photo booth business, please reach out to us.