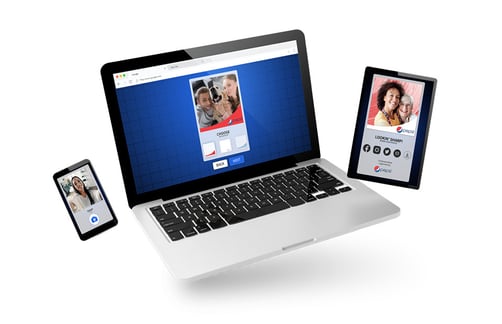 Video conferencing has become the new venue for events as virtual meetings and special occasions are hosted online. To keep up with the latest event trends, we've decided to bring the photo booth experience to the virtual space as well.
The TapSnap Virtual Booth offers the perfect solution for adding branded content and photo booth fun to your event while everyone is practicing social distancing. From birthday parties and weddings, to charity events and industry conferences, you can add an element of fun to your video call by adding a virtual photo booth to the online experience.
Here are just 5 reasons why you should add the new TapSnap Virtual Booth to your next event.
1. Connect with event guests while social distancing
Photo booths are a great way to connect event guests with your event and with each other. While we may be practicing social distancing now, it's still possible for your guests to enjoy the interaction that a photo booth offers. With the TapSnap Virtual Booth, guests can strike a pose, and then add photo frames and fun stickers to their pictures to make their creations truly unique. Then they can share their photos instantly to social media or by email - a great way to connect with event attendees and share their experience with others online.
2. Create shareable social content
Skip the blurry screen grabs of your video calls, and enjoy clear, creative photos instead! The TapSnap Virtual Booth takes high-quality photos and makes it easy for you to share your creations instantly to social media and by email. Consider encouraging your event guests to use a special event hash tag when sharing to social media to keep all of the event posts in one place!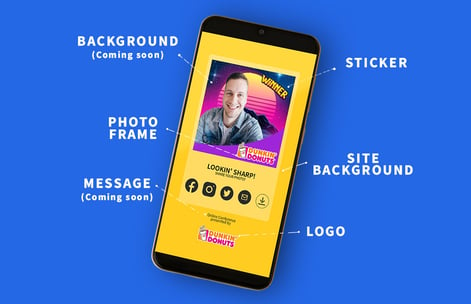 3. Create a unique branded experience for your guests
Whether you're looking to recreate your wedding theme, or create branded content for your corporate event, the TapSnap Virtual Booth can customize every element of the photo booth experience for your event. From custom photo backgrounds, to branded frames, to expressive digital stickers and special messages, we can customize everything to create a cohesive look and feel for your event.
4. Access easily through any device or browser
The TapSnap Virtual Booth is a fast, scalable, and cost-effective way to connect with your event attendees while creating engaging content that can be shared online. Featuring many of the same benefits as the in-person photo booth experiences offered by TapSnap, the virtual photo booth is easily accessible on any device or through any browser.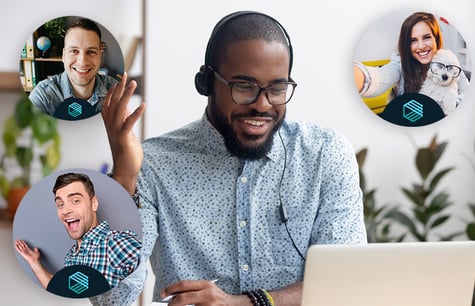 5. Capture the memories to create digital keepsakes
No in-person event is complete without a roaming event photographer and an interactive photo booth. These are essential elements for a successful event, and the same goes for events that are hosted online. With a TapSnap Virtual Booth, guests can snap high-quality photos, and save them or print them out as a special keepsake to remember the experience. Create digital photo books with your event photos, or create and send thank you cards to your event guests once the event has ended.
The way we attend events may have changed, but we're doing our best to keep the photo booth experience the same. Add a TapSnap Virtual Booth to your next online event and keep your guests happy and engaged while you interact online.