Since 1939, March Madness has been bringing athletes and fans together through the sport of basketball. 68 college basketball teams compete in this televised event which will be taking place between March 19 and April 8 this year. The event is one of the largest sporting events of the year and stadiums across the country sell out.
Many companies take advantage of the busy venues by creating integrated marketing activations for guests to use while they are in the stadium. You will often find companies interacting with their target audience using a variety of techniques such as giving out samples, letting them play a game, or allowing guests to have the opportunity to win prizes. These marketing activations aim to elevate the guest experience by creating a fun and memorable experience.
Coming up with unique and engaging ideas is a difficult task for many companies. It can be difficult to stand out in a sea of competition so finding something that will give you a unique edge can make all the difference. People love having their photos taken so why not add a photo booth into the mix? A photo booth is an addition that will allow your target audience to create memories while you advertise your business seamlessly at the same time! TapSnap offers a variety of state of the art features which allow for a 100% customizable experience every time.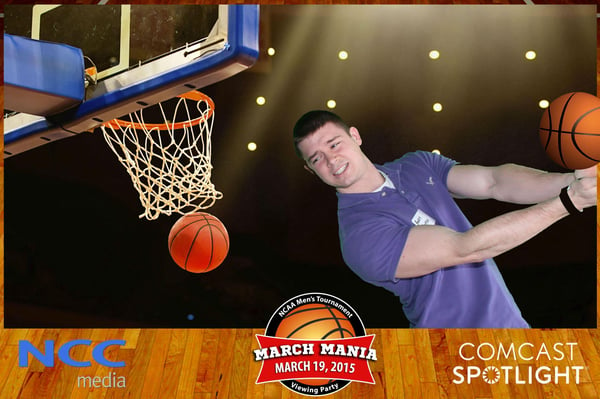 Related: The Importance of Social Media at Events
With our customizable features like green screen backgrounds and digital props, your guests can be placed right in the middle of the action! Valuable sponsorship space is available on each photo as well as the kiosk itself. You could also add flying basketballs or excited mascots with our animated GIF feature.
A photo booth is an easy way to create brand awareness and increase customer engagement. If you are interested in TapSnap and want to learn more about our features, check out our features page or check your date below!