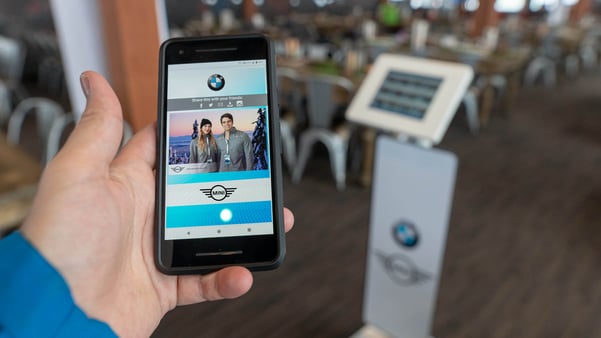 One of the biggest shifts in the events industry is the growing use of social media at events. As a result, a well thought-out social media event marketing strategy is integral to planning and executing successful events. Event organizers constantly hear about the value of social media at events, but rarely is the reasoning behind it discussed. As an event services company that loves social media, we wanted to give you a few good reasons why incorporating social media at events is so important. Take a look!
The benefits of integrating social media at events
1. It facilitates event engagement
Social media at events isn't always optional. While the bottom line for social media event marketing is to drive sales and RSVPs, providing a platform for networking and engagement amongst attendees is another factor to pay attention to. Event professionals can agree that event engagement is an important element in determining the success of an event. Bored attendees are a no-no! Encouraging collaboration and participation is what many event organizers should aim for, and it's easier to attain with social media.
There are many great opportunities for increasing participation with social media. Business-focused events, such as conferences or speaker talks, can take advantage of and leverage social media to build meaningful interactions with attendees. Twitter walls are the popular choice at most of these events. Take it a step further and provide direction by asking the audience questions and encourage them to tweet their answers using the event-specific hashtag.
In this way, this user generated content (UGC) builds an interactive experience for attendees, encourages collaboration, and creates conversation surrounding the event—a win for the event hosts and the attendees!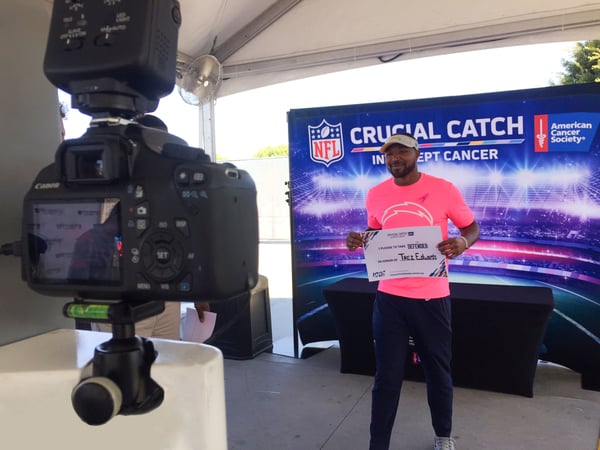 2. It adds value for event-goers
A report by Sparks unveiled that event attendees have found that social media adds value to their event experience. According to them, guests are more likely to "like/favorite, share and comment on content featuring their fellow attendees as the focal point". As a result, it's important to simplify the process by making it easy for guests to share their content during the event.
One easy and fun way to go about this is with a photo booth rental. Opt for a photo booth that has branding and customizing capabilities on top of instant social media sharing and live casting technology. This way, guests can instantly share branded photographs, while also being fully immersed in the event experience.
Social media event marketing also makes it easier to reach out and connect with attendees on a more personal level. With effective monitoring, questions and concerns by attendees can be addressed. Tools and resources like links or event guides can also be dispersed via social media. In this way, guests can easily access information during a busy conference!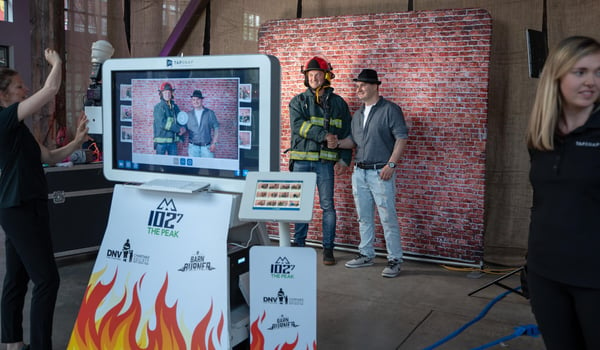 3. It increases event and brand exposure
We're all familiar with the term "sharing is caring". In regards to event engagement, this not only gives attendees a voice, it adds value for the brand! Remember, never underestimate the power of UGC—it's a gold mine for event marketers! This is why cleverly integrating social media at events shouldn't be last on your list.
With the use of event-specific hashtags, it's easy to track how people are interacting with your event. If you haven't used one before, here are a few tips on how to create a hashtag for an event. Event hashtags coupled with event technology that allows your guests' posts to be viewed instantly is an easy way to encourage event engagement.
If you are opting for a photo booth rental as event entertainment, it's also a great opportunity to leverage UGC. Ensure your photo booth rental has instant social media sharing options. When combined with an event hashtag, you can set up a live-stream of guests' pictures taken from the photo booth. For example, SnapCast pulls in pictures that use an event hashtag and projects them for other attendees to view. SnapCast also provides you with a unique URL which the event can use or embed in their website. SnapCast can be displayed on multiple TVs or projection screens around the event's venue as well.
In this way, guests can share their pictures on social media and see themselves on the big-screen. This creates incentive for them to share pictures and increases event engagement—all the while bringing attention to your event!
4. It's a learning opportunity
By integrating social media at events and effectively monitoring conversations surrounding them, event marketers can gain valuable insights of the event's performance and what attendees' gained from the event. With more event-goers engaged, event organizers have the opportunity to delve deeper into understanding their audience and tailor content that matters. Here are a few aspects of your event's social media activity that will offer you a different perspective of how successful the event was.
As a photo booth rental company that emphasizes the use of social media, we see the value of it every day for both events and event professionals. If you're an event planner, social media at events shouldn't only stop there. Don't be afraid to build a social media presence for yourself. Stumped? Try using a few of these online best practices of successful event planners.
Remember, social media is meant to enhance the overall event experience for attendees, so use it to your advantage. With a bit of effort and clever planning, your events are sure to benefit from social media!
Happy planning,
TapSnap