One look at TapSnap and Paul Aaron knew it was time to say good-bye to his old-fashioned photo booth business, and trade in for the newer model.
TapSnap is the open-air photo booth that is high-tech and instantly connected to social media. Guests at special events take their photos with a touch of their fingertip to the screen, and then they can add digital props to their pictures, and share them via social media and email.
Superior product
"The TapSnap product is far superior to anything that's out there on the market – it's so unique," says Paul, who is based in Omaha, Neb. "I wanted to have something different from what everybody else is offering."
He already had two arcade photo booths for special events and had been in business for three-and-a-half years, ever since his daughter announced she was going to get married.
"She said, 'I want a photo booth for my wedding,' and I said, 'What's that?'" he recalls.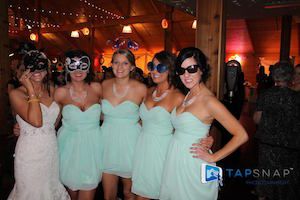 At that time, there were only three photo booths in Omaha – and all of them were booked. "Eventually I booked one from Grand Island half way across the state. But then I started thinking maybe it's not so smart to just rent one – I should be buying one if their business is doing so great."
So he did. And six months later he bought another one. As the owner of Great Plains Media Inc., he is used to running his own show, providing consulting services to broadcasters on sales and marketing. He just recently was in Nashville, Tenn. to help launch Rural Radio Channel 80 on SiriusXM.
Paul's other interests include real estate and a DVDNow Kiosks (www.DVDNowKiosks.com) business, with over 40 movie rental kiosks in eastern Nebraska and western Idaho. The management team behind DVDNow are also the founders of TapSnap, so Aaron already knew who he was dealing with when he acquired his TapSnap franchise in June.
Dynamite people
"The people at TapSnap are dynamite. They've always been very responsive," he says, adding that after going it alone as a photo booth operator, it is nice to have the support of a national office and marketing program.
"We had two weddings booked right away for August just from TapSnap's national marketing," says Paul. "TapSnap is great because it comes with a well-thought-out, total package and lends itself to someone like myself who may not always be around. You've got the marketing, the software and business strategy already done for you. We've done three weddings already with TapSnap. And they've all loved it."