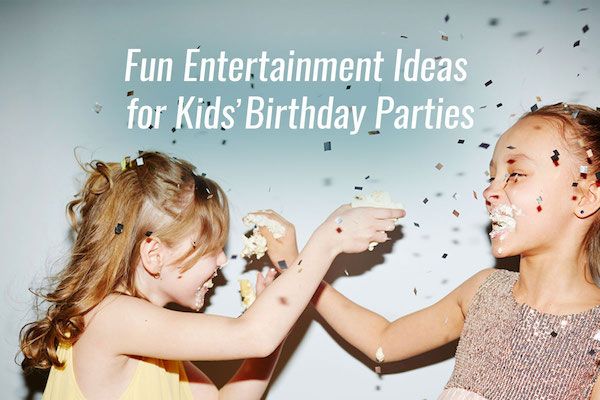 Kids grow up so fast! Before you know it, you'll be planning another birthday party for your little one. As experts in event entertainment, we wanted to pitch in a few ideas for kids' birthday parties to help you plan the best one yet. Take a look below for some inspiration!
Kids' Birthday Party Entertainment Ideas
Send them on a scavenger hunt
Whether it's at home or around the neighborhood (with parental supervision, of course), a scavenger hunt is a great way to build excitement and keep kids entertained. It especially goes hand-in-hand with a detective-theme party. To pull it off, split them off into groups to find the grand prize with clues scattered along the way. You can even gratify them with mini prizes to keep everyone happy—easy peasy! If you're stumped on clues, check out these printables by Celebrate Every Day With Me With Me for a scavenger hunt around the house.
Get creative with arts and crafts
Kids just want to have fun and that often involves some amount of mess (you know it's true). Why not turn that mess into something creative instead? Get the kids out of your home and into an art studio that offers painting activities that lets everyone create their own masterpiece. Splatter painting has been especially popular because it requires minimal effort and is tons of fun! Best of all, these paintings are the perfect party favors for kids' birthdays and make for great birthday party entertainment.
Satisfy any sweet tooth with some DIY action
Kids have boundless imaginations, so let them express themselves by having a dessert decorating activity. Cupcakes or cookies are popular and easy choices as they can work with different colored icing and toppings. If you like the idea of personalized desserts but don't like the idea of things getting too messy, opt for a dessert table that offers a variety of toppings instead. You or another adult can help put together the desserts which makes them personalized yet mess-free. Here's a fun idea for an ice cream dessert table by Moms and Munchkins we love. But the ideas don't stop there. Hot chocolate, s'mores, or waffle bars are some other ways to keep things playful!
Get interactive with a photo booth
A photo booth rental is a great way to capture all the fun and memories from any occasion—especially for kids' birthday parties! Opt for a rental that has interactive features such as a touch screen, green screen backgrounds, animated green screen backgrounds, animated GIFs, and digital props. These features will keep them entertained throughout the party, while the prints double as party favors which the kids and their parents will equally love.
Happy planning,
TapSnap