The beauty of a TapSnap business is that it can be as small, or in the case of Shreveport-based businessman Ryan Wooley, as large, as you want it to be.
With four markets in the South already and his sights on five more, Ryan is taking TapSnap to the big leagues. Already his team has done events for major organizations like Yelp, Neiman Marcus and LSU and formed partnerships with CBS Radio, the Baton Rouge River Center and Samsung among others.
"TapSnap took an established business market – the event photo booth – and opened it up to create a more lively, energetic kind of photo entertainment that uses technology to capitalize on the viral opportunities of social media," says Ryan. "TapSnap really becomes part of the event, and not just something at the event."
Ryan's core business is Blue Arx, a strategy management consulting firm that specializes in software engineering. He also created InstyBook , which helped service professionals manage their appointments, and he has several other business ventures. TapSnap is the first franchise he has added to the mix, and his ultimate vision is to integrate it with new software he's creating – an event recommendation engine that advocates events on social media outlets.
Ryan hired Jose Areizaga as his Operations Manager, is hiring three area managers, and plans to create "an army" of TapSnap attendants by recruiting at local universities, even going so far as to have Marketing and Business Management students get course credit for their TapSnap hours.
"I like that TapSnap is new and we have the opportunity to mold and shape the organization," says Ryan. "They really listen to their franchisees."
Recent events
The luncheon of the year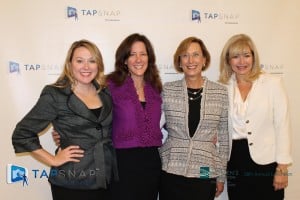 "The socialites of Dallas came together for one hour to raise awareness about the issue of human sex trafficking and raised over $800,000 in one hour," says Jose. "If you're a businesswoman in the community, you're at that event. And that one event produced three high-profile events within two days."
Lighting up Dallas
This holiday season, they're looking forward to their biggest event to-date as part of their partnership with CBS Radio in Dallas.
"They wants us to attend City Lights as a sponsor, when they illuminate all the buildings in Downtown Dallas for the holidays. We're really excited about it. There's a projected attendance of 50,000 people, so it will be the biggest event we've ever done," says Jose.
They will also be partnering up with See's Candies www.seescandies.com for the event.
The Feed Just One Gala
On November 11, they'll be in Frisco, Texas for the Feed Just One Gala for Minnie's Food Pantry, a celebrity gala raising funds for food banks, hosted by former Destiny's Child band member Michelle Williams.
One booth will be in the VIP section takings pictures of guests red-carpet style, and the other on the main floor.
"We're listed as one of the title sponsors along with TGI Fridays which is a huge win for TapSnap," says Jose.