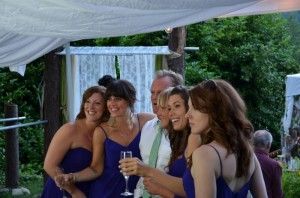 Wedding planning, like event planning as a whole, involves keeping up to date with trends. And that doesn't mean only floral arrangements, popular colors for bridesmaids' dresses, and the band's musical style; it also means keeping up to date with how engaged couples share their experience with the world. Understanding the modern bride and groom's interest in social media is important in order to keep your wedding up to date with the growing trend of the "social networking bride".
The modern bride's attachment to social media starts right at the beginning. Within one day of their engagement, 52% of brides have updated their relationship status on Facebook to "engaged". Brides then look for wedding ideas on sites like Pinterest and Facebook. Come wedding day, when all the planning comes to fruition, brides want to share their special day with the world. And that's where TapSnap can help.
55% of brides surveyed by TheKnot.com in 2014 used a wedding hashtag (and 10% didn't, but wished they had). That means almost two thirds of brides are interested in promoting their wedding across social media in tweets, Instagram photos, and Facebook posts. An even more substantial 68% of brides are interested in seeing photos of their wedding shared on social media in real-time. TapSnap and SnapCast are perfect fits for the modern bride's interest in social media.
A TapSnap photo booth not only adds to the event décor with its sleek white design and entertains guests by snapping fun photos, but it also can post photos in real-time to social media, tagged with the event-specific hashtag. SnapCast, our crowd-sourced social media slideshow, displays on screens around the wedding venue, drawing in tweets, Instagram photos, and Facebook posts tagged with the wedding hashtag. This way, everyone is encouraged to add to the wedding's social media buzz in order to see themselves on the big screens, which spreads the wedding's impact across their social networks. Also, SnapCast can be viewed from an event-specific website, so anyone who couldn't make the wedding can still join in on the experience.
Make sure your wedding keeps up to date with the trend of the social networking bride by contacting TapSnap to get in touch with your local Phototainment Specialist.
Source:
Singh, Kyli. "Here Comes the Social Networking Bride." Mashable. 21 Jul. 2014. Web. 20 Apr. 2015.