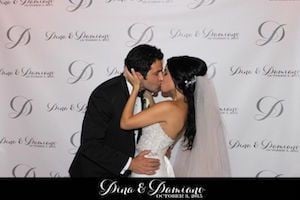 The future of photo booths has arrived in Portland, Oregon, and is coming soon to a wedding or corporate event near you.
"There has been a resurgence of photo booths at events around Portland, but TapSnap is a different breed. The social media connectivity, the interactive features, the capability for corporate branding make it almost space-age," says Portland resident Scott Farestrand, who is the first TapSnap franchisee in North America.
TapSnap is the photo booth reimagined without walls or ceilings, and made completely open-concept and highly interactive. Imagine a giant tablet computer that is larger than life and allows event guests to take their photos with a simple tap of a fingertip on the 42-inch multi-touch screen. Guests can then draw and add personal messages and digital props such as hats and moustaches to their pictures, and share them with the world on social media, all with the touch of a finger.
The demand for photo booths is strong in the Portland area. Approximately 68 percent of brides surveyed at the Portland Bridal Show indicated that they'd need a photo booth within 12 months of the show.

"I like the way it works. It was easy to use, easy to modify, and the concept behind it is pretty cool -- that you can share pictures on social media like Facebook."
- Slava Gurevich, Owner of Marx Jewelers
Farestrand's market research found that 14,000 weddings took place in the Portland Metropolitan Area in 2011, according to the WeddingReport.com. The average cost was $26,816, and the total market value was $375 million.
Designed as a social media marketing tool, TapSnap allows event guests to share pictures on social networks, creating a social media profile for an event while it's still happening.
"TapSnap brings the Wow factor to any event," says Scott McInnes, the founder and CEO of TapSnap, headquartered in Vancouver, Canada. "This is a special event photo system so highly connected that the integration between it and social media networks is virtually seamless."
TapSnap made its Portland debut at the MARX Jewelers' booth at the Portland Bridal Show in January, allowing visitors to photograph themselves wearing some exquisite high-end jewelry.
"I would like to have TapSnap back again next year," says Slava Gurevich, the owner of Marx Jewelers. "I like the way it works. It was easy to use, easy to modify, and the concept behind it is pretty cool -- that you can share pictures on social media like Facebook."
TapSnap began franchising in December 2012, and Portland is the first franchise in North America. Scott McInnes and his executive team are also the people behind DVDNow Kiosks, which created the largest independently owned network of movie rental kiosks in North America, second only to Redbox, the Coinstar (CSTR)-owned company which has enjoyed massive success.
Farestrand, who works full-time as a systems analyst, is also a DVDNow Kiosks operator who runs five kiosks in the greater Portland Metropolitan area. Both TapSnap and DVDNow are designed to be part-time businesses that people can do in conjunction with their regular employment.
"My DVDNow business doesn't take much time. It pretty much runs itself. And with TapSnap most of the events will be on evenings and weekends," he says, adding that he plans to use the business to create part-time jobs for his kids when they are in College.
"I'm a dream chaser," he says. "I want to show my kids to never be afraid to chase their dreams."