Red Bull pulled out all the stops for its Austin Formula One Weekend party experience, Blu at the W. And what a party it was.
Red Bull worked with party planners Formula VIP Events to transform the 2nd floor of the W Austin hotel into a sophisticated, high-end nightclub experience with beautiful blue custom lighting, international DJs, go-go dancers and TapSnap phototainment, with a ticket price of $100.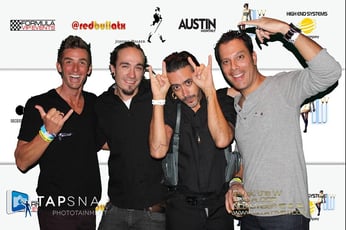 The entire weekend was one big non-stop party for franchisee Michael Meeks and his TapSnap machine. For two nights in a row he helped guests capture and share their party experience on social media from 9pm to 4am on November 15 and 16.
Celebrities like Matt LeBlanc from the TV-show Friends and Chef Gordon Ramsay from the Hell's Kitchen show were there along with the who's who of high-end car brands: Mercedes McLaren, Lotus, Ferrari and more.
"Red Bull enjoyed it so much that when their racers won first and third on Sunday, they invited TapSnap to their VIP-after party that night," says Michael.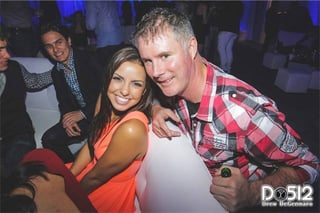 Michael also provided TapSnap phototainment at a pre-event, the FULL TILT Fashion Show from 6 to 9 pm on the Saturday which included guests taking their photos while trying on some gorgeous Kendra Scott jewelry, as well as a pre-party event for Austin Monthly Magazine on Friday. Working with the event planner, Formula VIP Events, was key to landing the event, which attracted 8,000 people.
Not only was the machine branded with a green screen that included all of the sponsorship logos, but the TapSnap attendants were also branded for the event in Blu at the W apparel.