TapSnap has captured hundreds of touching moments for children this holiday season, and given them some priceless photos.
Santa photos
TapSnap was the official Santa photographer at the Deaf Children's Society of BC Christmas party, taking pictures of all the children they support.
"It was just really lovely," says Claire Nagle, TapSnap's Vancouver events coordinator. "Just seeing the expressions on their faces light up when they saw their picture against the North Pole background."
TapSnap used its green screen capabilities to digitally insert a North Pole background into the pictures. The result was absolutely magical.
Family photos
In New Orleans, TapSnap 1015's Jose Areizaga took TapSnap to the Casa Jefferson children's party.
"For the children, some of whom are in foster care and don't get to see their parents that often, it was wonderful for them to have a holiday keepsake photo with their mom or dad that they could take home," says Jose.
The Casa in Casa Jefferson stands for Court Appointed Special Advocates, and this non-profit organization advocates on behalf of abused and neglected children in New Orleans. The event was generously paid for by a group of New Orleans Saints players.
Toys for Tots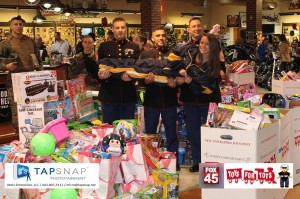 In Baltimore, Md., TapSnap 1020 collaborated with Fox 45 TV at the Toys for Tots kick-off, which started at 5am at the local Harley Davidson store and went until 10pm.
Every year across the country, the Marines Corp runs an annual toy drive, collecting unwrapped toys for children. People who dropped off toys had a chance to experience TapSnap, take a photo of themselves and share it with the world on social media.
"It's the same people who come back year after year," says franchisee Eric Metz. "There was a little girl there who was really sick last year and received some toys from the toy drive. This year she showed up with a whole wagon full of toys. It was a spirited, joyful moment."
The kind that makes great memories, which is what TapSnap is all about.