Ryan and Nicole Kidd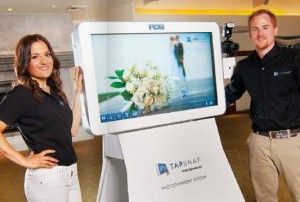 Everyone loves a photo booth opportunity. Pair it with green screen capabilities, instant touch-screen editing powers, and Facebook and Twitter links; and you've got TapSnap, the hottest new wedding reception accessory. Ryan and Nicole Kidd couldn't pass up the opportunity to expand their business, Access DVD, when approached with the TapSnap kiosk in 2013. Because as Ryan explains, "it's just such a cool product!" As one of the California's very first TapSnap owners, Ryan and his product wowed corporate parties and events in the San Joaquin area.
The product, launched in January 2013, is a one-step shop for sweet memories and smart branding. And all it takes is space and power. The mobile kiosk holds a camera, a 42-inch touch screen monitor, a printer for instant photos, and a green screen for a customized backdrop. "It's a versatile, complex product packaged in a simple, user-friendly way," say Kidd. The user-friendly machine allows for custom photos, catering to your special day. Brides can create a green screen background, prior to the special day, so that they are a part of everyone's photo, or Ryan and his team can stage a backdrop, showcasing the beauty of the reception or bridal colors. "It's all customizable," Ryan explains. Once the backdrop is set, attendees can enjoy hours of photo fun. Once the photo is taken, those involved can edit the photo on the touch screen. "The program offers a variety of fun edits," Kidd explains, "like cartoon hats, thought bubbles, mustaches, a coloring option, and a bunch of other options." With Facebook and Twitter capabilities, the kiosk allows those photographed to instantly upload their pictures to their profiles. According to Ryan, this generates impressive exposure for any event of brand. Kidd even took his TapSnap to Sacramento for the premiere of The Hunger Games: Catching Fire. The night of the premiere, TapSnap visited 26 cities to participate in the Lionsgate premiere. This was great fun for Kidd and the TapSnap crew. Ryan, a Lodi native, is excited to offer a new take on the classic photo booth. "We love to get out in the community, and be a part of those moments," Nicole continues. "And being able to offer new, fun and creative aspects brings extra excitement!"
Where's your favorite place to eat?
We LOVE sushi! Our favorite sushi restaurants include Haru Sushi and Oz Sushi – both in Lodi.
If you had $500 to spend where would you go shopping?
My wife and I have very different views on this answer. She says she would spend her money at one of the many boutiques in Lincoln Center. I would be spending it at Home Depot.
What do you do locally in your free time?
We like to take our son to one the many parks in town or for a walk around the nature trail at Lodi Lake. During the summer, we take out boat out for some wake boarding and enjoying the sun on the Delta.
What is your favorite Aspect of San Joaquin Country?
Our favorite aspect would probably be the small town feel. We love this community and we think it is such a wonderful place to raise a family. Everyone sticks together to support small town business.
Source: Rodrian, Lindsey. "Ryan and Nicole Kidd." San Joaquin Magazine, July.