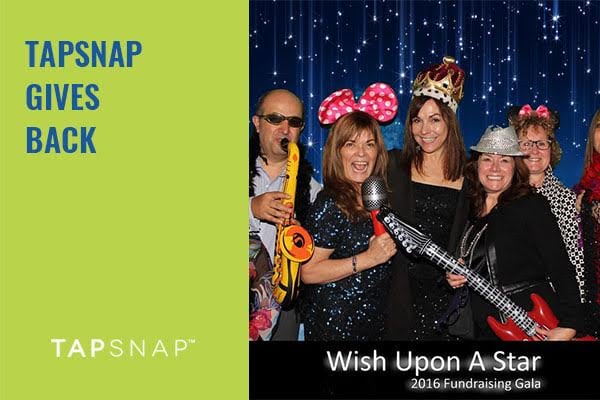 At TapSnap, investing in our communities and giving back to those in need is just as important to us as providing top-notch event entertainment for party hosts and their guests.
Many of our franchisees have found their own unique ways to give back to their communities, providing their time and services to support causes that are close to their hearts. Here are just some of the inspiring ways that TapSnap has given back over the past year.
TapSnap 1097 shines the spotlight on diversity in New Jersey.
Bilynda and her daughter Makenzie are the mother-daughter duo behind TapSnap 1097 in New Jersey, where they work as a team to run their photo booth business while balancing their time between volunteering in the community and participating in the Hillsborough Special Olympics. Makenzie, Bilynda's 20 year old daughter, may have Down Syndrome, but that doesn't stop her from working hard at TapSnap events, engaging with guests and making their photo booth experience fun and memorable. "She is my motivation for starting my TapSnap business, to help provide employment opportunities for her and others like her" says the proud mom of working alongside her daughter.
Bilynda and Makenzie love working with their favorite local organization, Gigi's Playhouse, a Down Syndrome Achievement Center in Hillsborough, NJ. They have done a number of events for them, but the most memorable was the organization's annual Gala fundraiser, with proceeds supporting the programs offered by Gigi's Playhouse (which are free for participants). The Gala was a huge success and Bilynda and Makenzie look forward to returning again in 2017.
TapSnap 1076 brings sunshine to kids with life-threatening illnesses and their families.
Cindy and Pam are the party-loving sisters behind TapSnap 1076 in Maine. One of their favorite charities to work with is Camp Sunshine, a retreat in Casco, Maine that provides support for children with life-threatening illnesses and their families. Camp Sunshine provides retreats combining respite, recreation and support, while enabling hope and promoting joy as they guide children and their families through the various stages of a child's illness.
Every year, TapSnap 1076 helps with the Maine Suitcase Party, a fundraising event put on by Keller Williams Realty to benefit Camp Sunshine. The event is hosted in a hanger at the Portland Maine International Jetport. It's a red carpet affair where each guest packs a suitcase and brings it to the event in hopes of winning the grand prize: a trip to New York! Winners are immediately whisked off on a private jet to Manhattan for a two night stay in luxurious hotel and they receive $500 cash to spend! The proceeds raised through the ticket draw and silent auction items go towards supporting Camp Sunshine's retreats and programs.
Camp Sunshine loves to use TapSnap as event entertainment, but they also see TapSnap as a great marketing platform to create sponsorship opportunities and raise awareness for the event.
TapSnap 1168 supports local Catholic charities throughout the year.
Herbert and Fernanda are the faces behind TapSnap 1168, providing photo booth rentals for San Antonio and Bexar County. Each year, they donate several hours to local San Antonio Catholic Charities, servicing three annual events with fun photo booths to entertain guests.
The first event is a senior fiesta event, where several companies offer their much-needed services for senior citizens with low income. Their goal is to bring local celebrations for the San Antonio fiesta to indoor locations where the senior citizens can celebrate in a safe environment (out of the heat and away from the crazy crowds). TapSnap makes the event fun with a photo booth offering backgrounds of the San Antonio River Walk, El Alamo, and Fiesta Parade.
The second event for Catholic Charities is a Halloween party for kids with limited resources. The organization collects costumes to give to the kids, and provides games, music, contests, food, and TapSnap photos for all to enjoy!
The third and final event is for The Ferrari Kid Organization. This organization provides support and one day of happiness to kids with terminal cancer. TapSnap 1168 donates their services to the Gala used to raise funds for the organization to help makes kids' dreams come true.
TapSnap 1103 adds an element of surprise to giving back to the their community.
Nancy and Bruce York work together to bring the TapSnap experience to events across Atlanta, GA through TapSnap 1103. Every year, the team at TapSnap 1103 identifies one charitable cause that means something special to them, and they donate their time and services to support the chosen cause. They contact the selected charity out of the blue, and offer to provide TapSnap in any way they may find most useful.
Last year's selected charity was the Pancreatic Cancer Action Network. TapSnap 1103 provided photos for those participating in Purple Stride - the walk to raise funds to fight pancreatic cancer. This particular charity was selected in honor of Bruce's brother who passed away from pancreatic cancer several years back. The Yorks were so happy to offer special photos to the survivors, friends and family members of those battling this terrible disease, and look forward to selecting and giving the TapSnap experience to another worthy charity in 2017!
TapSnap 1113 helps a family raise funds to conquer a rare genetic disorder.
Blenda and Jimmy of TapSnap 1113 love bringing TapSnap to events in Sarasota and Bradenton, FL - especially when their fun photo booth brings a smile to the faces of those in need of support. Alan Rodriquez (pictured above with his two daughters), suffers from Wilson's disease - a rare genetic disorder that causes copper poisoning in the body. The disease affects approximately 1 in 30,000 people worldwide, and treatment can be overwhelmingly expensive. Alan had a rough Summer trying to conquer his illness, and is now on the road to recovery. TapSnap 1113 donated their time and services to an event that was held to raise funds to alleviate some costly medical bills for Alan and his family, and it was a big success.
TapSnap 1128 helps raise funds to support kids in need.
Leigh and Teriann moved across the globe from Australia to Surrey, BC in Canada, where they run TapSnap 1128. After meeting the Executive Director of the Kids Up Front Foundation, the Aussie duo decided to donate their services at half price to support the important cause. The charity spoke to them as parents, as the aim of Kids Up Front is to provide uplifting experiences to children in need through the redistribution of donated tickets to arts, culture, recreation and sporting events. All of the members of the charity were so grateful for the TapSnap team, who added an element of fun for event guests while raising funds for Kids Up Front through the Wish Upon A Star Fundraising Gala.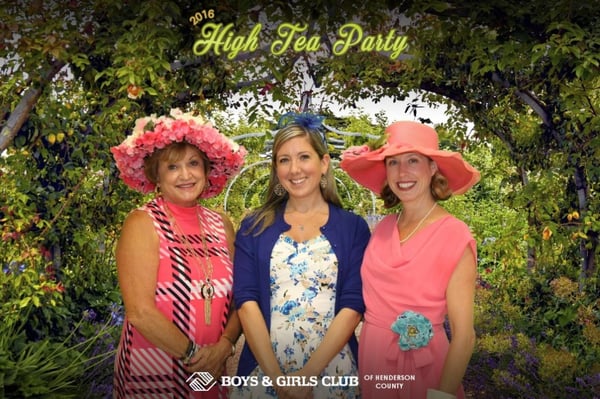 TapSnap 1131 celebrates a fancy affair in support of their local Boys & Girls Club.
Matt Morris runs TapSnap 1131 in Asheville, North Carolina, where he strives to provide the best event entertainment experience for party hosts and their guests in his region. Recently, Matt and his team donated their time and services to a local event hosted in support of the local Boys & Girls Club. The event's purpose was to celebrate the journey of the young women of the Boys & Girls Club of Henderson County, NC through a fun garden tea party theme. Ladies came dressed for the occasion, wearing fanciful hats and flower-covered headdresses, creating colourful photos like the one pictured above. The event hosts enjoyed working with TapSnap and have added them to their sponsorship packages for future events as well!
We're so thankful to have such inspiring franchisees on our team who care about their communities and give back to support local causes through providing the gift of event entertainment, and look forward to seeing more of their great charity work in 2017.