TapSnap reached a new level of chic at The Knot Gala, the Oscars of the Wedding World, which was held October 14th as a grand finale to New York City's Bridal Fashion Week.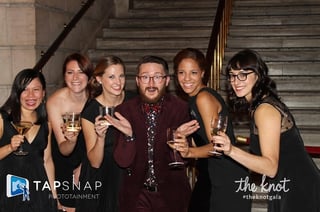 "This was the most gorgeous event I've ever been part of," says TapSnap franchisee Milton Guerrero. "Everything was incredible, from the venue, the New York City Public Library – a National Historic Landmark -- to the celebrity party planner Brian Worley who did such an amazing job, to the vendors and the music and the crowd that was a who's who of the wedding industry."
Innovative Wedding Vendors
As they were setting up, Milton had a chance to walk around the grand marble hall, and see the other vendors. There were gorgeous lounge areas with metallic furniture, interactive food stations, cake popsicles and dance floor lighting with a floral motif.
"I was taken aback at how beautiful the event was, and how much time and work goes into it," he says.
Celebrity Guests
The winning couple from the Bachelor, Sean Lowe and Catherine Giudici, were there, along with Desiree Hartsock from The Bachelorette and various celebrity designers.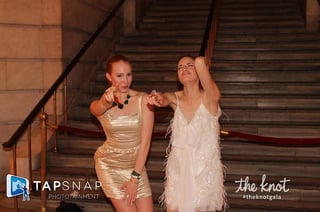 TapSnap was on the second level landing at the bottom of the stairs, taking pictures of all the glamorous guests.
For Milton, the night was a great chance to make connections and get TapSnap in front of the movers and shakers in the wedding industry.
"This event was a big deal, and I was thrilled to be a part of it," he says.
National Advertising Campaign
TapSnap's corporate office is also partnering with TheKnot.com, http://www.theknot.com for a national branding campaign, and aside from Milton, some individual franchisees have been working with The Knot locally including Carol and Sheldon Bernstein in Charlotte, NC, Rogier Chapon in Wichita, KS and Louis Montoya in Atlanta, GA.