Miami-based Gian Recondo and Jean Rodriguez are brothers-in-law who were both starting their families and yearning for the additional security of a second business when they came across TapSnap.
"We're both driven people. We both have full-time work with flexible hours. We wanted something else that would fit in with our schedules," says Jean. "We'd looked into a number of opportunities and came close in the past but were never certain until TapSnap."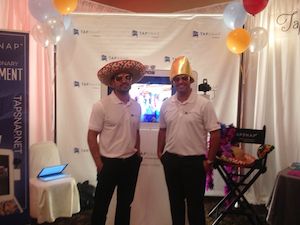 Jean is already in the entertainment business as a back-up singer for Marc Anthony, and a producer/songwriter with his own business Jeanius Musiq.
"I've been doing music all my life. I work with a lot of different artists, writing for them and producing songs," he says.
Gian is a credit manager in the printing industry for a design company, who works mainly from his home office, and can set his own hours.
"Our flexible schedules give us time for something else," says Jean. "With TapSnap we don't have to quit our day jobs tomorrow. We can build the business – Miami is a major city with a lot of events and weddings. The pros just outweighed the cons."
The idea first came when Gian attended a wedding last year that had another photo booth company. "I called Jean the next day raving about it," he says.
When they looked into it, they learned about a new company called TapSnap that was creating the first national photo booth brand – without the booth.
"We choose TapSnap over the competition mainly due to the business plan TapSnap presented to us. From the beginning we felt very comfortable working with everyone," says Gian.
Because their machine is like a robot, they named their machine Johnny Vice – Johnny from the robot movie Short Circuit in the eighties and because they are both called John, and Vice, because it's Miami.
On June 5, they held their Johnny Vice unveiling party to introduce TapSnap to family and friends.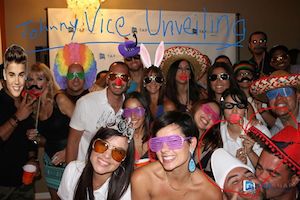 "We had a big silk blanket over it, and then we unveiled TapSnap to everyone," says Jean.
That led to their first big event. One of their friends, a chef at Red, the Steakhouse, liked the machine and introduced them to the chain's Marketing Director.
Next thing you know, they were partnering with Red, the Steakhouse for the Celebrity Golf Tournament on June 28 at Miami Beach Country Club, at one of Miami's premier events of the year, the 9th annual Irie Weekend Created by DJ Irie, the official DJ for Miami Heat, Carnival Cruise Lines and superstar Jamie Foxx, the Irie Weekend typically attracts celebrities like Foxx, Ne-Yo, Shaquille O'Neal, Timbaland and more while raising funds for the Irie Foundation, which supports underprivileged youth
Meanwhile, they took Johnny Vice to its first booking, the Wedding Salon Bridal Show at the Epic Hotel in downtown Miami on June 10.
"We almost couldn't handle the crowd. We nearly lost our voices and never had time to take a break. We had a line-up at our booth all-night long. TapSnap was an absolute hit," says Gian.