TapSnap has arrived in the hub of the universe: New York City's Grand Central Station.
The Westin Hotels and Resorts event, called "From rush hour to relaxing" gave commuters a chance to envision their next vacation or weekend getaway Westin-style in the Station's glamorous Vanderbilt Hall. All of the incredible possibilities of Westin Weekends and Starwood Hotels were on display: ski parks, golf resorts, luxury beach vacations and so much more, as well as a chance to win one of 800 fabulous prizes, everything from a Westin Weekend to free meals at their fabulous restaurants.
The Westin Experience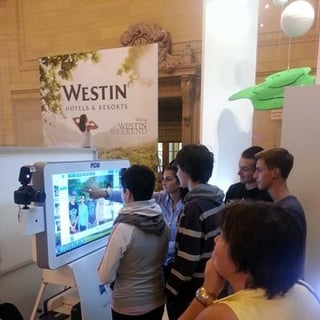 The four-day, four machine extravaganza was a major deal for New Jersey-based franchisee Milton Guerrero – the kind of event he knew was possible but hadn't seen yet.
"The idea was to create an experience and generate excitement around Westin Hotels," says Milton. "So we used TapSnap to take pictures of people in front of Westin and Starwood Hotel backdrops – things like a tropical beach resort, a ski resort and more so guests could see themselves in these beautiful locations. Then Westin gave them a frame for their pictures, and inside the frame they'd find out if they won a prize."
Teamwork
The deal was so big he teamed up with Philadelphia franchisee Ben Bender who contributed two of his machines. The event averaged 1,000 to 1,200 pictures a day, and while it didn't take advantage of TapSnap's social media sharing capabilities, guests were encouraged to email and share their pics on their own social networks.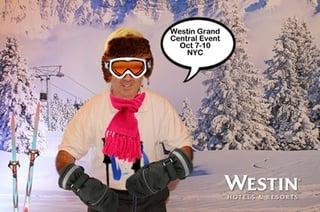 The event ran daily from October 7 to 10, and there were also two evening events, an industry party that included guests from the likes of Bizbash magazine, and a charity auction. "This event was great exposure for Westin Hotels and TapSnap," says Milton. "I'd like a few more like this one. This will open doors to more opportunities. It catches on. People think that if you're good enough for Westin Hotels, you're good enough for them."
Getting the Gig
Milton was contacted by a company called Chase Design who was working for Westin Hotels.
"It came down between us and a competitor," he says. "They were really impressed with our technology and how interactive TapSnap was and the digital props, but they had previously worked with the other company. There was some back and forth where we explained TapSnap's capabilities. In the end, they decided to take a chance on us."
He's glad they did.
"Overall the feedback was phenomenal. I felt the event was a huge success."