The NotWedding is a different kind of wedding show that gives brides a chance to experience wedding vendors firsthand at a big, fake wedding.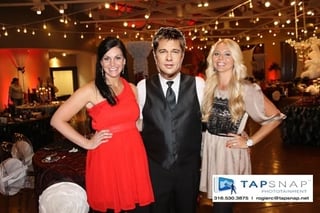 "It was a completely fake wedding that felt just like a real one," says Rogier Chapon, a TapSnap franchisee in Wichita, Kansas, who brought his TapSnap machine to the event. "All the dresses, the flowers, the décor and food were provided by real wedding vendors. It looked like a million-dollar wedding."
A big, fake wedding
Romance was in the air, thanks to the lovely NotWedding couple, Tim and Amy Pile. They were already married but did the ceremony to renew their vows. Of course Amy changed dresses a few times throughout the evening to let guests see options from a variety of vendors.
TapSnap was the only photo booth at the sold-out event, which attracted 175 guests to the stunning ABODE Venue in downtown Wichita.
The emotional connection
"Consumers buy based on emotion rather than rationale," says Rogier. "At an event like this, when people see TapSnap at a party and they wonder why there's a crowd over there, it really registers on an emotional level just how much fun TapSnap can be, and that makes them feel good about it and want it at their wedding."
The NotWedding Wichita www.thenotwedding.com/ was organized by
Ashley Moore, the owner of Events by Ashley www.myeventbyashley.com/, an upscale Wichita-based event-planner.
Other NotWeddings
The NotWedding concept was created by wedding photographer Callie Murray in Atlanta in 2008, and has now hosted events in Los Angeles, New York, San Diego, Nashville, Orlando and Athens, GA.
Connection with wedding vendors
The rehearsal evening for the event, which was hosted by The Loft at 420 and Xclusive Bartending, was almost all industry networking.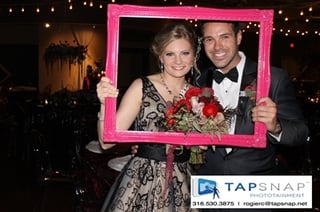 For Rogier, both the rehearsal and the actual event generated a "big stack of leads" and helped him forge connections with other wedding vendors like the disk jockey and the bartender.
"During the entire evening we had a line of people who wanted to try the machine. It was phenomenal," says Rogier. "We were the last ones to leave because people still wanted to take their pictures with TapSnap."