Vancouver-based Web designer Dominic Wong is a "social" person with active accounts on Facebook, Twitter and Instagram, and a Klout score of 59.
So when it came time to marry his long-term girlfriend Emily Wong (yes, they had the same last name before they were married) in July, it was only natural they'd want to share their wedding with family and friends on social media.
They took it one step further by inviting TapSnap to their wedding – a new kind of photo booth that is fully integrated with social networking sites.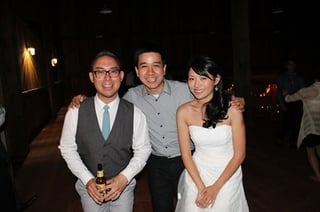 Live on Facebook
"The convenience of using TapSnap meant photos were already on Facebook as the wedding was happening," says Dominic. "People were able to see the pictures online as they were being posted in real time."
At first guests were hesitant to use the machine, because they'd never seen anything like it, but soon "it was catching on like wildfire," says Dominic.
"For us having the wedding on social media means it was not closed off," he says. "TapSnap provided us with a second experience. We got to see something that was spontaneous and so random."
TapSnap captured pictures of guests playing with props like heart-shaped sunglasses and a Viking hat against the beautiful wood interior of the wedding venue, the Harris Heritage Barn in Ladner, BC, just outside Vancouver. After taking and altering their photos, guests could immediately post them on social media, email them and print them to take home.
Wedding Hashtags
The couple set up a Facebook page called Dominic and Emily's wedding, and used TapSnap to post to an album on their page.
At the wedding, Dominic's groomsmen posted some of the pictures to his personal Facebook for him. Wong even changed his Facebook profile photo to a TapSnap picture.
They also had hashtags for their wedding, #domandemily and #domilywedding, and asked guests to post their TapSnap and other photos on Facebook and tag them.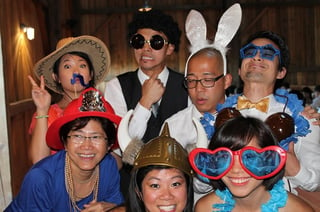 After the wedding they tweeted a link to their Smugmug photo album where people can download high-quality pictures to print, and within two days after the wedding he emailed the Smugmug link to 240 guests.
"There was a wow factor because people had never seen anything like TapSnap before – the whole system, the touchscreen and the social media sharing was new to all of these people," says Dominic. "The uniqueness of TapSnap is hot."