If you are looking for new ways to make your corporate event an unforgettable experience and to become the company everyone is talking about, a photo booth offers different approaches to creating a successful event that you may not have previously considered.
Corporate events can be quite challenging! Here, we share insights that have proven to be successful through utilizing a photo booth for corporate events.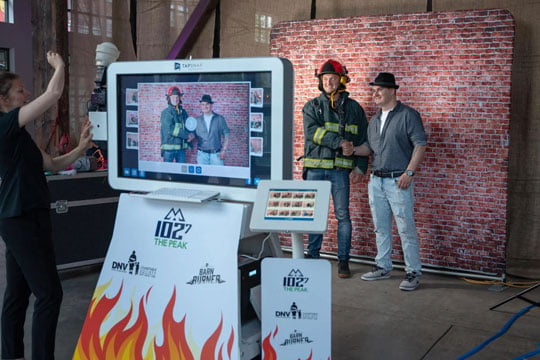 Related: How To Create A Branded Experience Using A Social Media Photo Booth
Here are five ways a photo booth can help enhance your next corporate event:
1) Complete Brand Activation
Make a strong first impression with a photo booth setup that will catch the attention of your guests and set the tone for your event. Showcase your brand identity or event theme with fully customizable photo booths and add-on features. Utilize your branding through personalized backdrops and photo booth wraps and carry branding through to the photo booth graphics, physical photo prints, and any customized social share pages for a complete activation. Photo booths for corporate events boost brand authority and introduce your brand to new audiences, allowing guests to interact directly with brand imagery.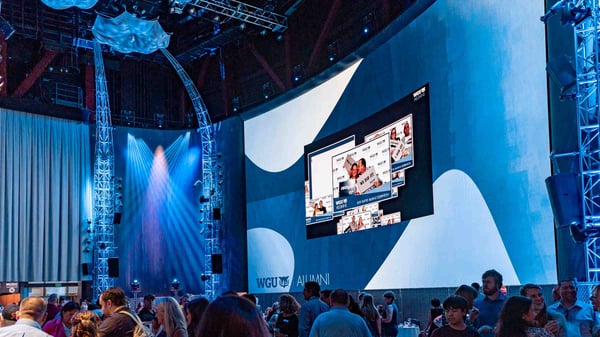 2) Attendee Engagement
Entertainment is crucial, and a photo booth provides a fun experience that is sure to be the most memorable part of your event. Photo booths represent an opportunity for guests to get involved with your event. Allow guests to let loose, get creative, and let their personalities shine in what might otherwise be a formal environment. The interactivity of the photo booths is a fun-filled and entertaining way to have a positive effect on your employees or guests and get them talking about your event long afterward. At an event photo booths can be used by an individual, couple, or group. Attendees can use features such as green screens and props to choose whether they want a formal picture or something more light-hearted. Encourage further engagement through broadcasting your photos on screens around your venue and by allowing guests to live view photos from your private event.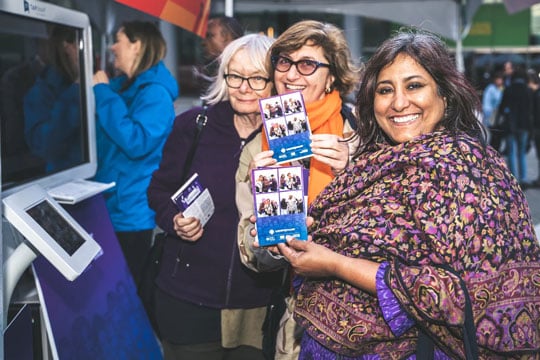 Related: 3 Killer Custom Experiences To Add To Your Corporate Event
3) Maximum Exposure
Have your brand activation reach more people with a customized share page with shortcuts that allow you to upload to Facebook, Instagram, Twitter, or Email. Engaging content, such as GIFs, green screens, and personalized backdrops, encourages social sharing to transform guests into instant brand ambassadors. Not only are the photos a great keepsake, but they serve as usable content for future social media and marketing purposes.
4) Tools For Marketing Teams
Get even more out of your event with additional photo booth features such as surveys, data collection, and analytics. Ask guests up to 5 custom questions before photos can be printed or shared. Marketing teams can then access all data collected remotely during or after your function. Analytics also demonstrate the success of the photo booth in a report after the event. These features collect important information about your event or brand while allowing guests to have a fun time doing so!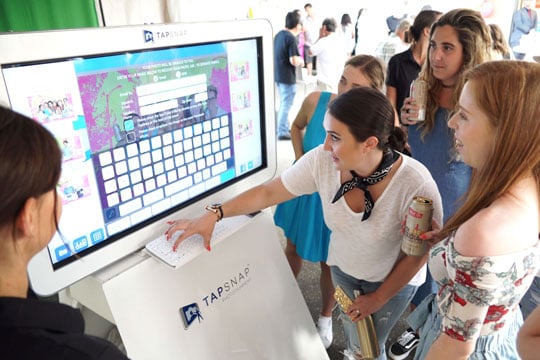 5) Whenever, Wherever
TapSnap can facilitate multi-city events, which creates a seamless and consistent experience in different locations. With a variety of photo booths, you have the option to choose one as a stand-alone or as a combination to create one multi-photo booth cohesive photography experience.
Photo booths for corporate events make marketing fun by giving your guests an experience worth remembering. Photo booths create new opportunities for engaging with your audience, and will help your next corporate event stand out! Beyond the techniques mentioned above, we'll collaborate to ensure you achieve your vision, whatever that could be when it comes to photo activations. There's a reason why some of the biggest companies choose to book their event with TapSnap. We can help!
There's a reason why some of the biggest companies choose to book their event with TapSnap. We can help!
Have any questions? Comment below and join the discussion!