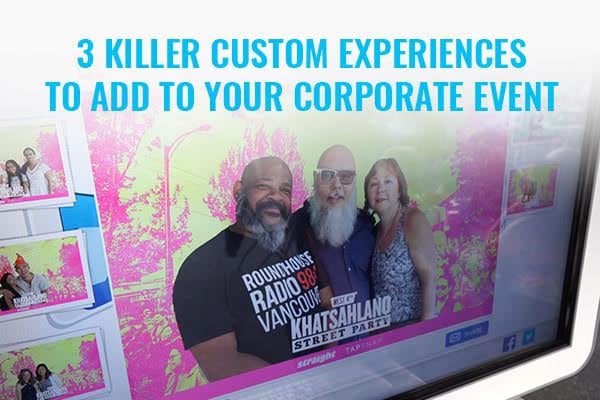 "TapSnap isn't just a service, it's an experience."
It's not just about the pose, snap and print anymore. The photo booth experience has been elevated to a whole new level with the addition of animations, customizations, and digital integrations - features that are putting photo entertainment in the spotlight at events around the world. More and more photo booth companies are expanding their offerings, shifting away from the 4-walled photo booths, and moving towards creating custom experiences for top-notch results at corporate events.
Here are 3 killer custom experiences that you can add to elevate your event:
1) Enjoy a fully-customized photo booth experience.
TapSnap works directly with clients to create one-of-a-kind activations to suit their needs, increasing brand awareness and creating unique sponsorship opportunities for their corporate events. Watch our latest video on how our team works together to make corporate events truly unique:
2) Take the experience outside of the booth.
When it comes to getting exposure for your event – both on site and online – TapSnap is your best solution, with social media integration and live event add-ons to suit your needs. Using our top-of-the-line technology, we can make it look like your guests are hanging from a cliff, or posing from inside a tiny bubble. There's no limit to what we can do thanks to our talented team of in-house designers. Once the photos have been snapped, guests can instantly share them online, and clients can add services such as SnapCast (live photo stream shared in-venue and online), and Social Photographer (wandering picture taker capturing candid shots during the event).
Related: Check out our custom activation with Skechers Performance at the LA Marathon
3) Generate revenue for your event.
Not only can you match your photo booth experience with your brand, but adding a photo booth can be a great way to generate additional revenue for your corporate event. Coming up with new opportunities to add to event sponsorship packages can be a challenge - logo exposure can only take sponsors so far when it comes to gaining exposure as a partner company. Adding a custom TapSnap experience to a sponsorship package can be a great way to encourage guests to interact with partner companies in a fun and engaging way, while showcasing their brand to a new audience - a valuable asset for both you and your partners.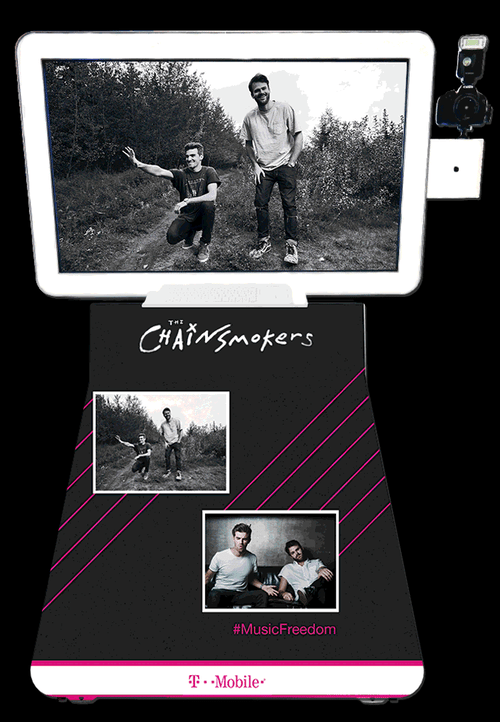 Don't just book a photo booth for your next corporate event, add a TapSnap experience and make your event a true success.