We're always innovating and developing our event photography products to give our customers and their guests the best experience possible.
Our newest product, the Mobile Photo Studio (MPS) adds an entirely new dimension to event photography and our photo booth lineup. Just as the name suggests, the Mobile Photo Studio allows us to get out and mingle with event guests to create more personal and spontaneous photo experience. With instant photos or animations, on the spot sharing, and guest data collection (that for marketers is a must), the MPS is like nothing you've seen before. The MPS combines all of these popular TapSnap features into a battery powered, ultra-portable system with cellular LTE connectivity, and handheld roaming capability.
Take our short quiz to find out if our newest product is for you:
Question 1: Are you having an event?
Your Answer = Yes - You should use the Mobile Photo Studio.
Your Answer = No- You should use the Mobile Photo Studio when you do.
All jokes aside, we are excited about our newest photo booth, and we're excited to tell you about why we know it'll be a fantastic addition to your next event. We'll keep it simple and break it down to highlight some features of the MPS and how they'll be useful at a few select event types.
Golf Tournaments
Your TapSnap experience no longer needs to be restricted to just one hole on the course or the club house. The MPS can hop into a golf cart (with supervision from a TapSnap attendant, of course) and snap photos of players all over the course. The portability, unlimited battery life, and cellular connectivity of the Mobile Photo Studio make it ideal for any event you might be holding over a large area without access to WiFi or power. With the MPS we can capture all of the action at your event with a photography system that is not only more fun than a traditional photographer, but one that also offers instant sharing of branded photos by email, SMS or to social media.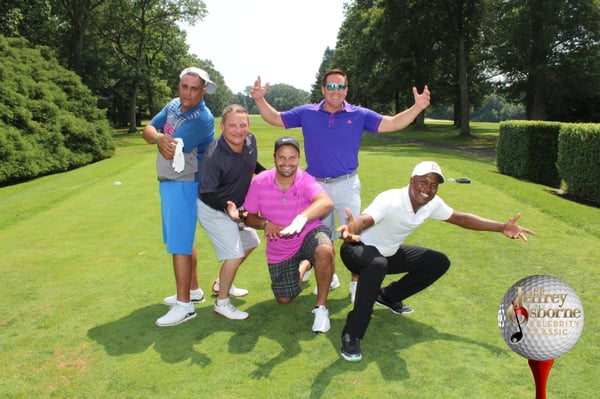 Jeffrey Osborne Celebrity Classic Golf Tournament, captured by TapSnap 1188
Festivals
Activate multiple Mobile Photo Studios at festivals to allow guests to capture, view and share their photos on the spot, right there in the middle of the action. If you're trying to create a buzz for your brand at a large festival, roaming Mobile Photo Studios with on the spot sharing capabilities is the way to do it. The MPS will turn every shared photo into a personalized advertisement for your company with a branded photo overlay. Guests sharing their photos on social media will enable your brand to reach a new massive audience in a fun and engaging way.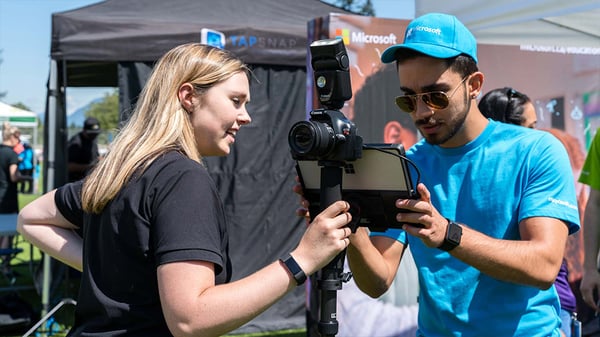 Canucks Autism Network Relay 4 Autism with TapSnap Vancouver
VIP Experiences
If a full sized photo booth isn't the perfect fit for your event, the Mobile Photo Studio provides an amazing alternative with similar functionality but with a much smaller footprint. For example, at a gala,t up the MPS as a stationary photo booth with a step and repeat background for that Hollywood feel. The ability to go from the red carpet to mingling with your guests and capturing spontaneous moments during cocktail hour sets the MPS apart from any other photo booth on the market.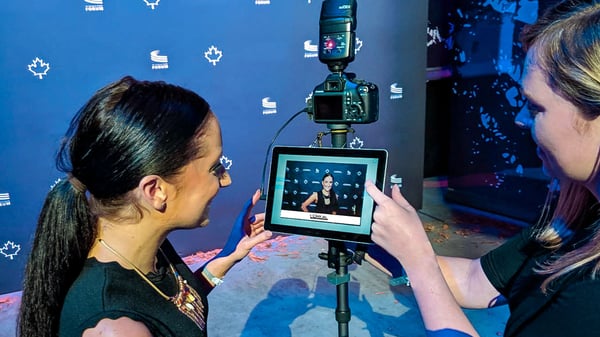 Red Carpet Gala with TapSnap Vancouver
Fun Runs
Our photo booths are known for our fun and engaging green screen photography, and the MPS is no different. The nature of a fun run means that there's always more than one spot for amazing photo opportunities, and our Mobile Photo Studio can capture photos of your guests before, during, and after the run (maybe even with a green screen like the animated GIF below).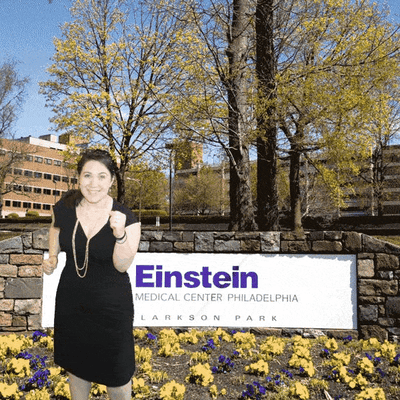 Animated GIF captured by TapSnap Philly
Conventions
The Mobile Photo Studio also works seamlessly with another TapSnap photo booth. At a convention this partnership comes into its own, with the MPS roaming around the convention center, taking attendees' photos around the venue, and driving these guests to your booth for their photo prints. The photo below shows two of our photo systems working in harmony at a community festival!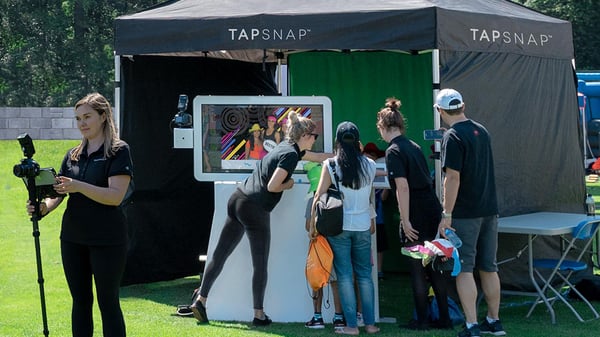 Canucks Autism Network Relay 4 Autism with TapSnap Vancouver
Our team would love to discuss how we can make the Mobile Photo Studio work for your next event! To get in touch with us or learn more about the MPS click the button below.