As the end of 2017 is creeping up on us, you may be thinking about how to say goodbye to this year and hello to the next. The transition into the new year is a great time to reflect back on the year and make goals for the following year but sometimes it can be hard to think of unique things to do. We have put together our favourite unique New Years ideas that will help you begin 2018 with a bang.
Put 2017 in Writing
Every year is full of ups and downs so why not end the year on a happy note as you look back on memory lane? Writing down your favorite memories will allow you to focus on the positivity you experienced during the year. It is also a great way to preserve your special moments to look back at in years to come! This can be done as easily as writing an email and sending it to yourself to look back on in the future.
Create a Memory Jar for 2018
For the year ahead, create a jar that you can fill with your memories. Next December, you can relive your year by opening the jar and seeing all of the amazing things you did in the previous months. This blog post by Alice and Louis has a great tutorial on making a memory jar which even has a printable label.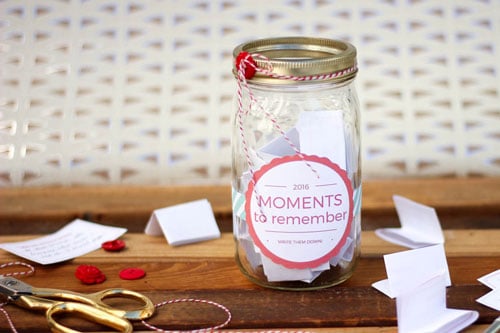 Related: How To Throw A Whimsical Winter Party
Predict the Future
Perfect for those friends or family members who say they have a psychic side, writing down predictions for the upcoming year is a fun activity for everyone. Break your predictions into categories like political, celebrity, royal family, and world predictions. Now is the time to guess how many more Kardashian babies will arrive next year! If it's tradition to do New Years with the same people every year, you will be able to look over the predictions next year and see who should give up their day job and become a fortune teller.
Make Resolutions
Whether you want to get in shape, take up a new hobby, or start your own business, there is no better time to make your goals a reality than in the new year. Decide on one personal and one professional goal for the new year and strategize how you can achieve them. If you are having trouble sticking to the resolutions you made, this article by LifeHack has several tips and tricks that you can utilize to reach your goals.
Capture the Moment
If you want to capture a moment in time, a photo booth is a great addition to a New Years event. From sparkly backdrops to animated confetti, TapSnap will ensure you have a blast ringing in the new year! Not only will you receive a digital copy of your photos, TapSnap provides unlimited prints which makes for the perfect New Years keepsake. If you are curious about TapSnap's features and how we can make your night unforgettable, check out our how it works page.