Back in the day, a photo booth comprised of 4 walls and a curtain. You'd add your money to the slot, cram into the tiny space with one (or two!) of your friends, pull the curtain closed, and pose for your shots. Then, a strip of photos would spit out into a tray. You'd browse through the shots, and negotiate with your friends - trying to take home the best of the bunch, and then you'd carefully snip each photo apart and divvy them up.
Photo booths have definitely come a long way since then! Not only have they taken various modern forms, but digital integration has made it possible to share photos directly to social media, via email, or through SMS. Snappers can now add digital props, green screen backgrounds, or animations to their shots, and companies can profit from having a photo booth on site by integrating branded elements into their high-end events. Not only have we seen an increase in features, but the walls have come down and the photo booth experience has become an out-of-the box form of event entertainment. Here are just 5 of the reasons why you should book a no-walls, open-air photo booth for your next event:
1) Get a great group shot
You no longer have to choose between your favourite friends before climbing into the closet-like booth. With an open-air photo booth, you can take some great group shots without getting stuck in the confines of a tighter space.
2) Take the fun outdoors
No walls means more flexibility when it comes to the positioning of your photo booth. With an open-air photo booth, you can snap fun photos by the pool, in the garden, or on the beach. No more trekking to the mall to take a pic, you can book a photo booth for your outdoor event and watch the fun unfold outside.
3) Showcase your natural surroundings
Green screen backgrounds are fun, but it can also be nice to showcase your location as a natural photo booth background. Capture your fellow racers at a marathon, highlight the lovely landscape at your garden party, or include a view of your venue as your backdrop. It'll create high-quality, natural looking photos for you to enjoy as keepsakes from your event.
4) Get moving!
Don't just stand and pose for your picture! An open-air photo booth makes it easy to capture GIFs and incorporate animations into your photo booth experience, upping the ante when it comes to capturing that perfect party photo.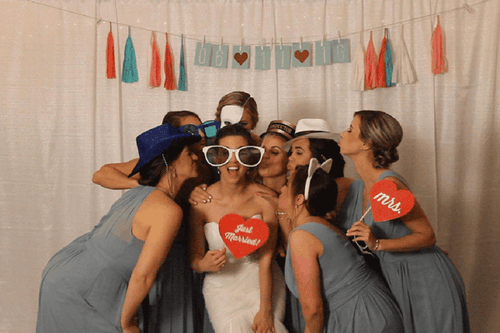 5) More space to pose with props
A photo booth isn't complete without adding some fun props to the mix. With an open-air photo booth, you can grab a group of your friends and easily pose with props for your pic!
Summer is the perfect time to book an open-air photo booth for your event. Set up some indoor fun, or take the party outside! TapSnap's photo booths are perfect for every occasion.