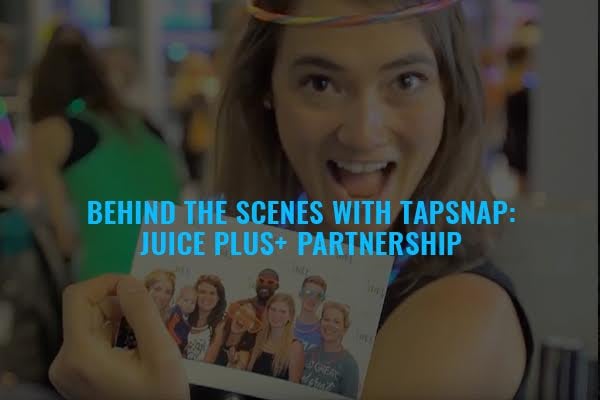 One of TapSnap's newest franchisees, Garrick Ellis, was recently invited to join the Juice Plus+ team as the photo booth provider for their bi-annual Juice Plus+ Live conference in Anaheim California - a three-day event designed to educate, empower, and encourage those involved in the Juice Plus+ business.
TapSnap has been working with Juice Plus+ for four years now (through 8 conferences), and they have been more than pleased with the results, recognizing TapSnap as not only an event entertainment service, but a valuable marketing tool that offers exceptional service and perfectly-matched personality to their high-energy events.
"From a marketing standpoint, TapSnap does a great job of meshing with our branding. I would highly recommend TapSnap to other companies that have events like this, because they're going to be very pleased with the outcome. It's also about the attendees - the attendees love this, it's a highlight for them! It's just a great partnership." - Jason Lowe, Juice Plus+
In our latest behind-the-scenes video, we show you how our on-site activation at Juice Plus+ Live has been a great partnership, boosting social media exposure and attendee engagement for Juice Plus+ with our unparalleled photo booth offerings. Check it out:
Not only did the Juice Plus+ Live conference attendees have a great time tapping, snapping, and sharing their fun event photos, but Juice Plus+ saw a great boost in social media exposure - reaching 117, 211 people through social media shares, posted directly from the TapSnap units that were set up on site. The TapSnap photo booth features were custom branded to match the event, with logos displayed on the background of the photos to enhance brand reach when those photos were shared online.
Guests were also able to print their photos on high-quality 4X6 photo paper, to take home as memorable keepsakes from the fun event!
Adding a TapSnap photo booth to your corporate event can increase brand awareness, elevate the guest experience, and help you reach new audiences through our high-quality, digitally-integrated photo booth kiosks. There are also various custom-branded features both on the outside of the kiosk, and through the digital features, that can be used to promote event sponsorships or create added revenue generation opportunities for your event! Partner with TapSnap for your next corporate event, and enjoy unmatched results!