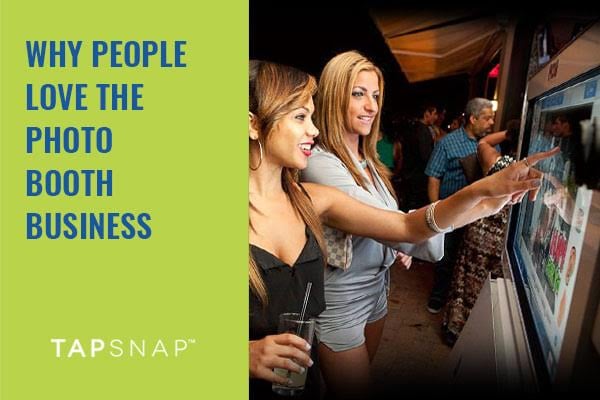 Deciding to join a franchise may be an important business decision, but joining the TapSnap family and running your own photo booth business has so many more rewards than just the financial gains that come with joining a company with a proven business model. Hear what some of our franchisees have to say about why they love what they do (and their clients do too!).
Kim Deimling of TapSnap 1009 has been a TapSnap franchisee for just over 4 years and still loves all the benefits that come with running a TapSnap photo booth business. For her, the business is a win-win-win - for her clients, their guests, and herself as a business owner! Here's what Kim had to say about why she loves her line of work:
"I love working in the photo booth business because we bring so much joy, fun, excitement, and positive energy to events. Our location has run over 350 events, and EVERY time, we hear people say, "This is awesome! It's SO much better than a regular photo booth!" More often than not, we're told TapSnap was the best part of the event. How many other professions get that kind of instant gratification? Plus, the long-term benefits include making new friends, travelling to new places, and gaining a sense of pride knowing you're in a business that makes both social and business clients happy on all levels."
Liz Sweeney-Blake of TapSnap 1199 loves the variety of events that she gets to experience as a TapSnap franchisee:
"From sports organizations, to weddings, to company parties, to a presidential inauguration event - there are so many different types of people we come in contact with, it makes it FUN and interesting. The business itself is a great mix where as a team, my husband's technical and photography skills are a perfect fit with my sales, marketing and customer service skills!"
Terrie Jewett-Mutchnik of TapSnap 1138 loves the story-telling component of the photo booth business - the ability to tell stories and capture memories through photos:
"I like the sense of community and sharing not only the event "stories", but the stories of the people in the photos. Our photos are a looking glass into a point in time that tells a story, a purpose, a cause that people remember and want to share. I especially love the laughter and the joy on people's faces when they see the magic of the TapSnap photo experience!"
Mari Killian of TapSnap 1069 joined TapSnap after a career in meetings and event planning, so she understands the benefits of hiring the best special event suppliers in the business. She explains:
"Reliability, punctuality, professionalism and value are all taken into consideration when contracting special event vendors. From caterers to decorators, talent, AV, lighting and production, these choices are critical to an event's success. TapSnap clearly represents the industry's best. The WOW factor combined with engaging staff members whose sole responsibility is to make guests feel comfortable and free-spirited is priceless."
One of our newest franchisees, Greg Jones of TapSnap 1208 in Nashville, TN recently shared that he joined TapSnap because he wanted people to be excited to see him! After a long career in a job that involved enforcing strict rules in the safety field, Greg wanted to add some fun and positive energy to his work world.
"After 23 yrs in the Safety field, climbing the corporate ladder, being involved with over 15 acquisitions and multiple Reductions in Force, I decided it was time to do something new and exciting. When you are the "Safety Guy" no one is excited to see you coming. I want to be in a position, where people are excited to see me."
Wendy and Rocky Larson, love the diversity of the clientele that they work with:
"The BEST part is building relationships with so many different people from so many walks of life, industries, and cultures. But I wouldn't be in any photo booth business... it's the TapSnap Franchise that brings the uniqueness and "raising the bar" mentality to our work!"
Matthew Henry of TapSnap 1092 knows that the service industry can be a challenging line of work, but TapSnap brings smiles to the faces of their event guests, making the experience fun for both the TapSnap employees and their customers!
"I love working in the photo booth business because it allows me to meet people in an upbeat setting where people are having a great time and are at their happiest!"
Anne Wessel of TapSnap 1184 loves that she can offer the opportunity to add something fun and unique to an event:
"I love working in the TapSnap photo booth business because there isn't anything else like it available in the industry! Personally and professionally, I like to be different in a way that makes people take a second look. TapSnap affords me all the perks of working in the event industry while satisfying a need that the client could not even dream possible because of the customization, creativity and opportunities that we can provide."
Adding a TapSnap photo booth to your event is guaranteed to be a fun and engaging experience for your guests, and our dedicated and passionate staff will make sure that you have the best event possible - not only because they want you to love your photo booth experience, but because they truly love what they do. We currently have over 160 locations worldwide and are always looking to add more members to our family. Could a TapSnap franchise be the right business fit for you?