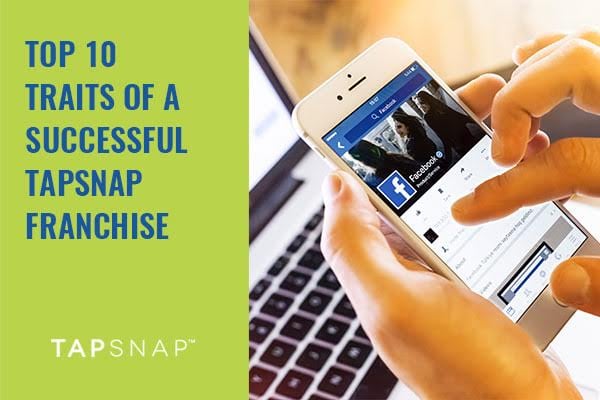 You know you're interested in becoming a TapSnap franchisee, but how do you know for sure that you're the right fit to run a TapSnap photo booth business successfully? Here are some of the top traits of our successful franchisees to help you figure out if a TapSnap franchise is the best choice for you.
1) You enjoy meeting new people. Working in the service industry requires a certain level of interpersonal skills. As a TapSnap franchisee, you'll often attend social events where you'll be encouraged to talk to people. It's important to feel comfortable with face-to-face conversations, because this is one of the best ways to make connections and potentially book more events!
2) You'd love a flexible work schedule. Hard core nine-to-fivers need not apply. Because TapSnap is in the event business, bookings will often happen in the evenings and on weekends, but you also get to create a work schedule that fits your lifestyle. For many, a flexible work schedule is a huge perk to running your own franchise. A flexible schedule could mean the ability to run a franchise as a side business, or the flexibility to work from home or enjoy more time with family.
3) You're willing to follow a system. One of the benefits of buying into a franchise is the ability to tap into an already-established brand, with a proven business model. While you may have entrepreneurial dreams and strong leadership skills, an understanding that maintaining consistency and cohesiveness as a brand is key to business success as a franchise.
4) You have a great support system. As with any new business, it's important to surround yourself with people who support what you do. There is a proven correlation between business success and family support!
5) You have a passion for what we do. If you're not passionate about what you do, it will be harder to convince others to get excited about your product or service. You may not have a passion for photo booths specifically, but a love for photography, event planning, or if you even just love making people happy - your enthusiasm will guide you towards success.
6) You're reliable. As an event-based business, it's important to be punctual, deliver on your promise to your customers, and execute the brand to maintain consistency within the company, representing your business in a professional and positive way.
7) You're a leader. Unlike a "boss" who thrives off of giving orders and being in charge, it's important to be a good leader who can teach, motivate, and challenge your staff to succeed. You not only demonstrate good work ethic, but you encourage your staff to do the same.
8) You're able to approach your business realistically. You know that success doesn't come overnight, and it doesn't come without hard work. You have to be willing to put in the time, and trust in the process.
9) You're an optimist. In this business, it's important to maintain a positive demeanour. As will all businesses, you will be faced with challenges and hardships just as you will enjoy successes. It's important to be able to see the positive in all experiences, and setbacks as opportunities for growth.
10) You're a team player. As a TapSnap franchisee, you will have access to a network of like-minded individuals who will act as helpful resources, which can be a great perk, but you also have to be able to work together with varying personalities and opinions. Making sure a franchise runs successfully takes teamwork to ensure the business truly succeeds - both on a corporate level, and locally at your own location.
To get a better idea of what's involved in running an event at TapSnap, take a look at our behind-the-scenes video:

Interested in learning more about how you can join the TapSnap family? Check out the TapSnap Experience.