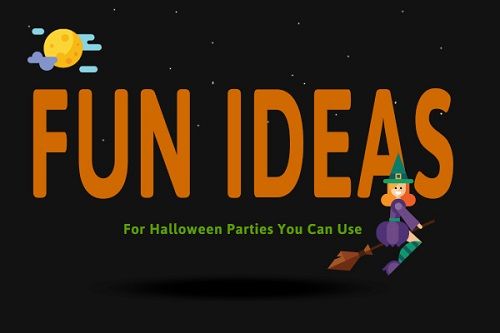 With Halloween nearly upon us, it's time to start planning that big annual bash everyone's looking forward to. This year, shift gears with your Halloween party planning and up the ante. If you don't know where to start, we have a few ideas for Halloween parties which will help you out-do yourself!
Entertainment Ideas for Halloween Parties
Halloween party entertainment starts with a creative theme that's both challenging and fun. While Halloween may seem like a theme in itself, there really aren't any limitations. Determining a specific theme for your party will help in setting the mood.
Try a group theme where guests coordinate their Halloween costumes as couples or groups— Stormtroopers, the Scooby Doo gang, or Finn and Jake from Adventure Time showing up at your party will definitely make it much more interesting. And if there are duplicate groups, it'll make your best costume contest that much more exciting!
If your guests aren't particularly coordinated, opt for a classic horror theme instead. A macabre and gothic theme is a classic and really lets you get creative with everything from your décor to your costume. If that's not your style, keep up with the recent zombie obsession with a zombie theme. Whether it's gory or goofy, a theme will make your Halloween party planning that much easier to organize.
Make your decorations a part of the entertainment
The best part of Halloween party planning is picking out your decorations to obtain that ideal look and feel. Your décor can be so much more than just fake cobwebs and skeletons. Create a truly eerie experience with dry ice or a fog machine. Set these up strategically around your venue for perfect balance. Pay attention to the bar—it's an especially good spot for a foggy set up.
Halloween is about engaging the senses too. Experiment with textures as a part of your décor. Don't just put out a candy bowl, burry the candy beneath a bed of pumpkin seeds, olives, or cooked pasta. It'll add a creepy element which your guests will secretly love!
Have cardboard boxes or spare wood lying around? Repurpose them by crafting a coffin. It'll serve as the perfect prop for pictures, which your guests will enjoy. Check out this handy DIY tutorial to build your own.
Mix things up with some friendly competition
One of the most popular entertainment ideas for Halloween parties is hosting a best costume contest. This is a Halloween party entertainment staple, but don't shy away from other contest ideas. While it may get a little messy, switch it up with a pumpkin carving or decorating contest. Just like the best costume contest, you can have a few different categories to compliment the best pumpkin of the night.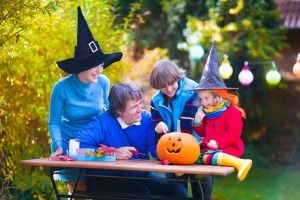 Have kids attending your party? Keep them entertained and occupied with a game! Escape room games have risen in popularity, so why not create your own? Set the stage in a spare room and have them do some detective work to 'escape' it. The kids will love the challenge and adventure behind it!
Games for adults can also spice up your Halloween party entertainment. There are many great ideas out there. One of our top picks is: 'Have You Learned Anything from Horror Movies?'. The game play is simple, and lets your guests put their horror movie knowledge to the test. It's also a great way to break the ice.
Halloween and photo ops go hand in hand. With costumes abound, it's no doubt that the smartphone cameras will be clicking away, and uploads to social media are to be expected. With this in mind, don't underestimate photography combined with the importance of social media at events! As a result, consider a photo booth rental which comes equipped with instant social media sharing, and customization capabilities. It's a great way to capture all the fun from your event as it compliments your Halloween party entertainment perfectly!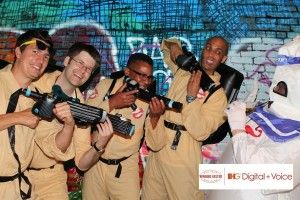 Halloween party planning is a lot of fun, but costs can add up quickly. If you're concerned of overspending, take a look at these simple tips to stick to your event budget.
These are just a few ideas for Halloween parties to get you started, but if you found them useful, feel free to share. We hope you have an awesome Halloween this year!
Happy planning,
TapSnap