For the past five years, TapSnap Vancouver has partnered with the Canucks Autism Network to provide on-site photo booths at their family events, creating a fun yet comfortable environment for families who are touched by autism and capturing the memories from the event, while driving awareness for an important initiative.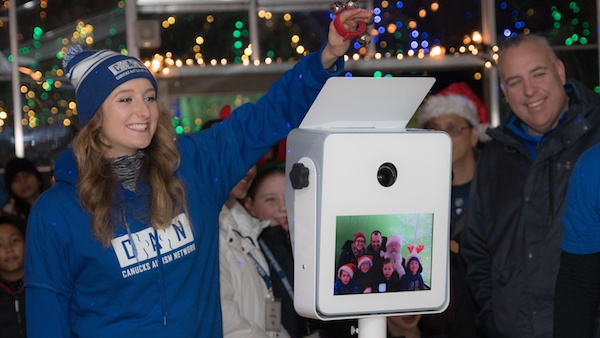 "The Canucks Autism Network strives to foster awareness and understanding of autism to create more inclusive environments where individuals and families living with autism can feel understood, accepted, and supported in a range of community activities and spaces."
Providing added value to their events, and working closely with their marketing team to ensure a seamless experience for both their staff, and the families who participate in their events, TapSnap creates awareness for the Canucks Autism Network through easy social sharing capabilities, customized branded elements, and unlimited photo prints that can be taken home by the event guests as special keepsakes.
Related: TapSnap Gives Back: Inspiring Franchisees Support Local Charities
In our latest behind-the-scenes video, watch how TapSnap was able to help create awareness for the Canucks Autism Network through a recent family event:
The Canucks Autism Network sees great value in partnering with TapSnap, and hopes to continue to do so for future events!
'It's really important for us to to continue to bring education and awareness across the province, and through collaboration and partners like TapSnap, families truly understand that we're in this together, that it takes a village to really do what we're doing here today. We hope to keep having TapSnap at all of our events!" - Ryan Yao, Manager of Strategic Partnerships for the Canucks Autism Network
If you're interested in adding an element of fun to your next charity event, invite TapSnap! Check your date and book now but clicking on the image below.